[ad_1]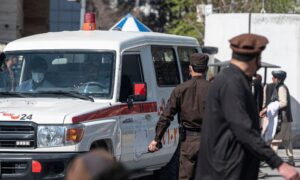 KABUL — At least six civilians were killed in a suicide bombing near a security checkpoint leading to the Ministry of Foreign Affairs in the Afghan capital on Monday, police said.
"At Malik Asghar Square…a suicide bomber was identified at a checkpoint and killed before reaching his target, but his explosives detonated," said Kabul police spokesman Khalid Zadran. He said several people were injured, including three Taliban security force members.
He did not name the target, but the explosion occurred in a busy downtown area near a checkpoint guarding a heavily fortified street housing several government buildings, including the Ministry of Foreign Affairs.
A nearby emergency hospital run by an Italian NGO held 12 injured patients and two dead bodies, the country's director said.
Kabul and other urban areas have suffered several attacks in recent months, some claimed by ISIS terrorist groups.
An explosion in January killed at least five people and injured dozens at the Ministry of Foreign Affairs. Employees flowed out of the building at the end of the day.
The Taliban say they have carried out several raids against suspected ISIS terrorists in recent weeks.
Monday's incident occurred at lunchtime, when the city is particularly busy during the Muslim holy month of Ramadan as government staff leave early for the day.
[ad_2]