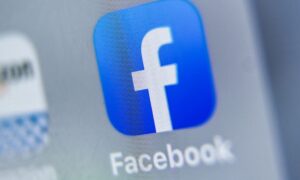 Reporters Without Borders (RSF) said Tuesday it is suing Facebook in France for allegedly violating the European nation's consumer code with deceptive promises to fight hate speech and false information.
In a press release, the Paris-based free press watchdog alleged that the U.S. social media giant has broken its own terms of services to "allow disinformation and hate speech to flourish" on the platform, including "hatred against journalists" and "significant disinformation about COVID-19."
The RSF cited two reports as evidence of Facebook's alleged tolerance of hate speech against journalists. One details dozens of user comments containing "insults, threats, and calls for violence" against the French satirical magazine Charlie Hebdo and its journalists in September 2019, when a high-profile trial was underway of 14 people accused of helping two jihadists carry out the 2015 massacre at the magazine's office.
The other report concerns the "hate messages and threats" against journalists working on the French TV program Quotidien, which were posted on public Facebook pages, and comments threatening the French regional newspaper L'Union, whose 65-year-old photographer was attacked and seriously injured this February while covering youth violence.
In addition, the lawsuit alleged that Facebook has failed to label "disinformation about COVID-19" as such. For example, Facebook posts of the 2020 French documentary-style film "Hold-up," which spreads what the RSF describes as a conspiracy theory about the CCP (Chinese Communist Party) virus pandemic, remained visible and were viewed more than 4.5 million times in two months.
The RSF said it chose to file the lawsuit in France because French commercial law is "especially well suited" to deal with the issue, and that Facebook has 38 million overall French users, including 24 million daily active users.
Under French consumer code, according to the RSF, a commercial practice is considered deceptive "if it is based on false claims, statements or representations or is likely to mislead." The offense is punishable by a fine of up to 10 percent of annual turnover.
Facebook said in a statement on Tuesday that it has "zero tolerance for any harmful content on our platforms and we're investing heavily to tackle hate speech and misinformation."
"Our enforcement will never be perfect, but while nobody can eliminate misinformation and hate speech from the internet entirely, we continue using research, experts, and technologies to tackle them in the most comprehensive and effective way possible," the company said.
In the United States, Facebook is also facing questions over its handling of what some deemed as false information. Mark Zuckerberg, the company's CEO, is scheduled to appear at yet another congressional hearing this Thursday over the role social media played in the Jan. 6 breach of the U.S. Capitol.