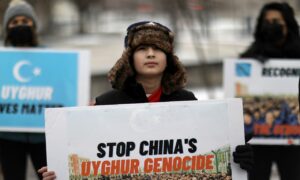 A federal court has dismissed a petition by a Uyghur rights group to sue the federal government for its lack of action against Beijing's human rights abuses against China's Uyghur minority.
The petition also sought formal recognition that China's detention of Uyghurs was an act of genocide, and that liberal inaction on the issue amounted to a violation of the United Nations Convention against Genocide.
Judge Alan Diner said he agreed with the motion filed by Attorney General David Rameti to dismiss the Justice Department's application. Uyghur Rights Advocacy Project According to (URAP) it cannot be fixed. court judgment Released on January 26th.
"URAP disputes Canada's failure to act. However, Canada has not implemented a policy on whether to act. Rather, it has decided not to act," Diner wrote. , said the courts can only determine whether the government has followed existing laws and policies.
URAP filed a petition for judicial review on February 3, 2022, stating that Ottawa's inaction against Beijing's "ongoing genocide" United Nations Convention on the Prevention and Punishment of Genocide CrimeCanada ratified in September 1952.
Article 1 of the Convention states, "The States Parties affirm that genocide, whether committed in peacetime or in time of war, is a crime under international law and undertakes to prevent and punish it. I will."
"According to URAP, this lack of action contributes to the crimes committed against Uyghurs in China," the court ruling said.
As a relief from judicial review, URAP asked the court to declare at least one of its five claims. This includes: "Since at least 2014, crimes of genocide are currently being committed against Uyghurs on Chinese territory" and "Canada violates Article 1 of the Convention by its acts and omissions." increase."
The Attorney General argued that the URAP application should be dismissed, citing reasons such as the petition "raising unjustifiable issues because of its political nature."
Judge Diner agreed, saying that "the mere possibility of genocide does not automatically lead to a court proceeding."
URAP executive director Mehmet Tohti told the Epoch Times that the court likely dismissed the case on "jurisdictional grounds," and that his group's legal petition is not a court decision on the matter. He said he was not seeking judgment, but rather "seeking a declaration." relief from a judge. "
"We will evaluate the situation with our legal team and make decisions on next steps," he said.
motion
On 30 January, days after the court granted the URAP application, the MPs started discussing A private lawmaker's motion asking the Cabinet to formally recognize the Chinese Communist Party's crimes against humanity.
M-62Introduced by Liberal MP Samir Zuberi and supported by MPs from all major political parties, the Canadian government said Uyghurs were subject to "massive arbitrary detention, massive arbitrary separation of children from their parents, forced They called for admitting that they face serious risks of sterilization, coercive sterilization, labor, torture and other atrocities," and they fled to a third country before leaving the communist regime in China. continue to be threatened to return to
Motion 62 called on the federal government to facilitate the entry of 10,000 Uyghurs and other Turkish Muslims in need of protection into Canada over two years from 2024.
MPs are expected to vote on Zuberi's motion on February 1.
Zuberi's motion continues Motion of February 2021 Here, parliamentarians voted unanimously (266 to 0) to consider the arbitrary imprisonment and abuse by the CCP of an estimated 1-3 million Uyghurs in the Xinjiang Uyghur Autonomous Region in western China as an act of genocide. bottom.
But the liberal cabinet abstained from voting, and Prime Minister Trudeau said a more formal inquiry was needed to determine whether genocide had occurred.
"The word 'genocide' is not used lightly," Conservative MP Ziad Abultaif said in the House of Commons on January 30. That is what the People's Republic of China is doing to Uyghurs and other Turkic Muslims. "
However, "since the motion passed through the House, the government has not addressed the concerns it raised," he added.
"If we don't act now, when will we act?" said Abultaif.