[ad_1]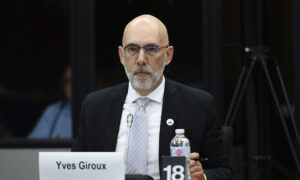 The House of Representatives Committee on Government Operations has heard that when federal managers set simple performance goals they often fall short.
Parliamentary Budget Officer Yves Giroud testified In response to a question from BC Liberal MP Palm Baines before the committee on March 20, he said government sector targets "tend to be too easy".
"I speak from my own experience having been in public office for over 20 years. is always considered achievable," Giroud told the committee.
According to Blacklock's Reporter, annual targets are set by executives in departmental results reports and submitted to Congress.
In previous testimony before the Senate Committee on Finance on February 7, Giroud explained His role for the Senate Committee was to provide "independent, nonpartisan analysis to assist members of Congress in fulfilling their constitutional role of holding governments accountable."
Giroud, a former assistant commissioner of the Canada Revenue Agency, said the government's reports exaggerated achievements and suggested they were often incomplete or delayed.
Giroud also said the reports were often "surprising" given that "nearly half" had not met or had no target date set.
Mr. Giroud, speaking before the Senate in February, said: I wouldn't be surprised if they claim some success despite the disaster of recent months. "
Giroud indicated that the targets set in the ministry's outcome report are "largely determined by the civil servants responsible for delivering the program itself."
"However, in my experience, ministers are not well prepared to challenge their own officials. "They're usually not too high so they don't look easy, but they're not too low and they're fairly easy to hit most targets," Giroud told the committee. According to our assessment, they have failed to achieve many of these."
"We have a broken system," a budget official told the committee. He said the goals were not ambitious enough to make a "meaningful difference".
"Governments will either 'invest' or spend millions of dollars to do this," Giroud said. "Okay, but what are the results?"
"I can hold the government accountable, but I can't do it alone. I have to be willing to receive that information and act on it," the budget official said.
[ad_2]