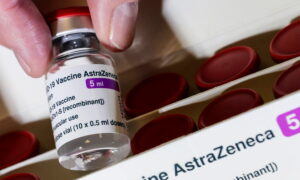 Ukraine's health agency reported that a female military member died after receiving AstraZeneca's CoviShield CCP virus vaccine but stressed that the public should not jump to conclusions.
The agency said that the woman did not complain of any side effects before her death. After receiving the shot, she died about two days later, officials said on the health ministry's website, reported Reuters.
The woman had underlying heart problems and other underlying health conditions. Her cause of death is being investigated, the health ministry said.
The same batch of vaccine was used to administer shots to nine other people without any problems, said officials, as reported by Reuters.
Ukraine's army also confirmed on Tuesday that the servicewoman had died. According to Reuters, it is the first death reported since Ukraine started vaccination in February after getting the CoviShield vaccine.
Earlier this month, the AstraZeneva vaccine was suspended in Germany, Spain, Italy, France, and other European countries after reports of blood clots and deaths. Later, the European Medicines Agency and the World Health Organization stated the data available doesn't suggest that the vaccine caused their deaths.
However, some health officials in other countries, including the United States, raised concerns Tuesday that positive trial results released by AstraZeneca earlier this week for its vaccine may have used incomplete data.
The U.S. National Institutes of Health (NIH), in a statement, said it and other agencies are "concerned by information released by AstraZeneca on initial data from its COVID-19 vaccine clinical trial."
"The [Data and Safety Monitoring Board] expressed concern that AstraZeneca may have included outdated information from that trial, which may have provided an incomplete view of the efficacy data," the NIH said. "We urge the company to work with the [Data and Safety Monitoring Board] to review the efficacy data and ensure the most accurate, up-to-date efficacy data be made public as quickly as possible."
Dr. Anthony Fauci, the head of the National Institute of Allergy and Infectious Diseases, said that "the Data and Safety Monitoring Board were concerned that the data that went into the press release by [AstraZeneca] was not the most accurate and up-to-date data. That is what the DSMB communicated to AZ in a rather harsh note. Having seen that letter we could not just let it go unanswered."
The AstraZeneca vaccine has not yet been approved for emergency use by the U.S. Food and Drug Administration. The company has stated it aims to file an application with the FDA in the coming weeks.
The vaccine is used widely in the UK, across the European continent, as well as in other countries like India and Thailand.
The Epoch Times has contacted the company for comment.