Manila-Philippines Foreign Minister in a taunting Twitter message demanded that Chinese vessels escape from conflict areas on Monday. This is the latest exchange of words with Beijing over the South China Sea.
Teodoro Locsin's comment, known for his sometimes candid remarks, is in Manila's protest against the "illegal" presence of hundreds of Chinese vessels within the Philippines' 200-mile Exclusive Economic Zone (EEZ). It is the one that follows.
"China, my friend, how polite I can put it? Let's see … O … GET THE [expletive] "Out," Roxin tweeted in his personal account.
"What are you doing to our friendship? You are not us. We are trying. You are. You are like an ugly orc and watch out for a handsome guy who wants to be friends. I'm not the father of a Chinese state … "said Roksin.
The Chinese embassy in Manila did not immediately respond to requests for comment. Chinese officials have previously stated that the disputed Whitson Reef vessel is a fishing vessel evacuating from the rough seas.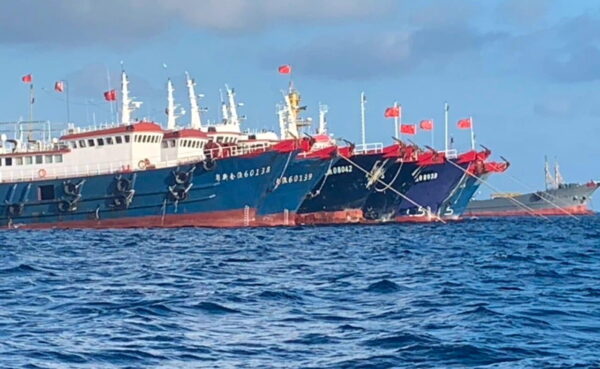 In response to a request for comment, a U.S. Department of State spokeswoman reiterated a statement by U.S. Secretary of State Antony Blinken on March 28, stating that the United States "is facing pressure from (China) maritime militia and our allies. We are cooperating with the Philippines, which is the South China Sea. "
"As mentioned earlier, an armed attack on Philippine troops, official vessels or aircraft in the Pacific Ocean, including the South China Sea, will pose our obligations under the Mutual Defense Treaty," a spokesman added. It was.
China claims almost the entire South China Sea, with about $ 3 trillion in shipboard trade passing each year. In 2016, the Hague's arbitral tribunal ruled that the allegations were inconsistent with international law.
In a statement on Monday, the Philippine Coast Guard accused China's Coast Guard of "shadows, obstructions, dangerous operations, and radio challenges of the Philippine Coast Guard."
On Sunday, the Philippines vowed to continue maritime exercises in the South China Sea EEZ in response to China's request to suspend actions that said it could escalate the conflict.
As of April 26, the Philippines has filed 78 diplomatic protests against China since President Rodrigo Duterte took office in 2016, according to Foreign Ministry data.
Marie Yvette Banzon Abalos, Executive Director of Strategic Communications, Ministry of Foreign Affairs, said:
Duterte has largely sought a warmer relationship with the Chinese administration in exchange for Beijing's promise to invest billions of dollars in investment, aid and lending.
"China is still our benefactor. Just because we are in conflict with China does not mean that we must be rude and rude," Duterte said in a weekly national speech. Said.
"So kindly allow our fishermen to fish peacefully, and there is no reason for trouble," Duterte said in a speech to the Chinese administration.
Neil Jerome Morales and Karen Rema