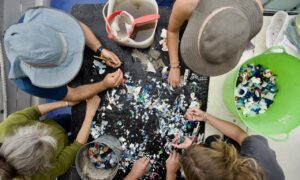 Buoys, floats, nets and giant fishing ropes are among the 50,000 pieces of trash collected from the beaches of Tasmania's Wilderness World Heritage Area.
Twenty environmentalists spent two weeks on the state's rugged southwestern beaches looking for bits of plastic, rope splinters and other debris littering the shores.
According to cleanup coordinator Matt Dell, the annual cleanup covered new areas, including heading to Point Hibbs, where nearly 70 meters of black industrial fish feeding pipes were discovered.
"This involved the difficult task of unloading these contaminated pipes from land and back onto the boats," Del said before the expedition returned to the Huong Valley on February 25.
"These northern beaches contain large amounts of large debris, including buoys, floats, nets and very large industrial fishing lines.
"We collected 7 cubic meters of litter at Endeavor Bay, about the same amount we collected during the first five cleanups on the southwestern beaches in the early 2000s."
The group crawled over some of the worst littered beaches this week, finding 11,667 pieces of debris in less than four hours a day.
"Our southwest coast is home to some of the most beautiful and inaccessible beaches on earth. It's been exposed," said Dell.
Dell has called on the Tasmanian government to tighten restrictions on the use of industrial fishing materials.
"We collect a lot of litter from longline and trawl fisheries and now from industrial aquaculture," said Dell.
"One clear and practical step forward is to follow the example of South and Western Australia and ban bait straps."
Since 1999, the nonprofit organization Team Clean has removed approximately 760,000 pieces of trash from World Heritage sites, according to Dell.