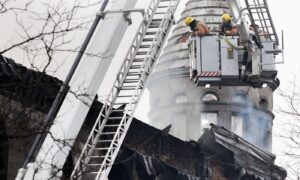 At least six people are missing after a fire destroyed a building in the city's historic district on Thursday, the Montreal fire department said.
Investigators initially said one person was believed to be missing after nine more were injured in the fire.
Montreal fire chief Martin Gilbourt said recently confirmed information from various sources concluded that more people were trapped inside when the fire broke out before 6 a.m. Thursday. increase.
The cause of the fire remains unknown, and Guilbault told reporters the investigation was led by the Montreal Police Arson Squad.
Fire officials said two of the nine injured were still hospitalized with severe burns.
Montreal fire chief Richard Liebman said Thursday that there was confusion over how many people were inside the three-story Old Montreal building at the time of the fire because some apartments were Airbnb rentals.