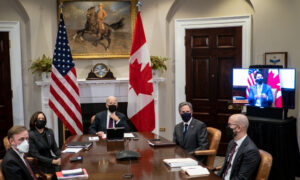 Deputy Prime Minister Chrystia Freeland held her first phone call with U.S. Vice President Kamala Harris on Thursday.
Among the range of issues they talked about were the various aspects of the impact of the COVID-19 pandemic, the close economic ties between the two countries, and the importance of free flowing trade and investment.
According to a government statement, the two highlighted the Chinese regime's "unacceptable" imprisonment of Canadians Michael Kovrig and Michael Spavor. They agreed to continue to demand the two men's immediate release.
Kovrig and Spavor are being held on baseless charges of stealing state secrets, and have been detained in China since Dec. 10, 2018. Their detention is widely considered a hostile retaliation for Canada's arrest of Huawei's senior executive Meng Wanzhou nine days earlier at the request of the United States.
Meng is under house arrest in Vancouver as her extradition case makes its way through court. She is accused of bank fraud for allegedly misleading HSBC in an attempt to evade U.S. sanctions against Iran.
Spavor was put on trial on March 19 for "spying and illegally sending state secrets abroad," while Kovrig was tried a few days later on charges of "spying into state secrets and intelligence" for foreign entities. Consular access to both court hearings was denied.
The continued fight against #COVID19. Vaccines. Childcare. A strong economic recovery for all.

Today, @VP Harris and I spoke about these and more as we build upon the strong relationship between our two countries. 🇨🇦🇺🇸

Talk to you again soon, Madam Vice President.

— Chrystia Freeland (@cafreeland) March 26, 2021
Freeland and Harris also spoke about the economic recession caused by the pandemic. They discussed the need to continue support for entrepreneurs, small businesses, young people, and low-wage workers. They also talked about the importance of child care as part of the economic recovery.
Freeland thanked the vice president for ensuring Canada will receive 1.5 million doses of AstraZeneca vaccine, which are expected to arrive in Canada next week.
She also noted the close economic ties between Canada and the United States in facilitating free trade and investment, particularly under the "Buy American" proposals.
Harris raised issues around migration from Central America, and both leaders agreed on the need to tackle the root causes contributing to the crisis.
Previously, Freeland and Harris participated in a virtual meeting between Prime Minister Justin Trudeau and U.S. President Joe Biden on Feb. 23, 2021. The two agreed to stay in close contact for future collaboration between the two countries.