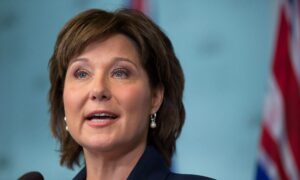 Clark told the Karen Commission that he was unaware of the surge in money laundering at casinos before 2015.
Former BC liberal Prime Minister Christie Clark, one of the prominent witnesses who appeared on the Karen Commission this week, had a significant delay in investigating money laundering in the state when she was prime minister. I denied that with testimony.
Between 2011 and 2017, when Clark premiered, there was a significant increase in suspicious casino transactions allegedly related to cross-border organized crime.
"We recognized it as a serious problem in the state. We were taking action to address it," Clark said at a hearing on April 21.
House prices in Vancouver also skyrocketed in the meantime, but Clark told the commission that there was no reason to believe that money laundering was the cause, and her government said low interest rates and high immigration rates.
Clark was unaware when asked by lawyer Patrick McGowan what he thought was happening with the suspicious cash surge reported at a British Columbia casino between 2012 and 2015. Said that.
"I wasn't particularly late for large cash buy-ins and reports from law enforcement agencies," she said.
Clark said he was informed directly about the "highest-ever" surge in suspicious cash transactions and that the government took action only in 2015.
She pointed out that the government has set up a joint illegal gaming research team (JIGIT) to combat illegal gaming activities.
"We can say that we have taken important actions in the years I was there. I think the confirmation of their effectiveness is that the current government continues the actions we have taken." Clark said.
When McGowan asked Clark why he hadn't been charged with money laundering during his premiere, she first replied that the court was separate from the political investigation. However, she later confirmed McGowan's claim to adopt what the court offered.
"The investigation of these crimes is left to law enforcement agencies," she said. "Once again, it's not an area where governments are involved and set daily priorities."
Clark later premiered that an organized crime agency focused on the state's anti-illegal game police unit was disbanded by BC Liberal in 2009 and should have been noted by former BC Lottery Corporation. Said he didn't notice. Reported by Robert Croker, Vice President and Chief Compliance Officer, if critical.
McGowan concludes by asking Clark if she or BC Liberal Party has accepted donations from the gaming industry. Clark replied that such contributions were only accepted in the last two years of her time as a premiere. She allowed her action, saying that the Canadian Constitution does not prohibit political contributions from the gaming industry.
Mark Skwarok, a lawyer at Great Canadian Gaming, did not ask a question and gave it to Toby Rauch Davis, a lawyer at Transparency International Canada. Davis asked Clark if he had asked him to investigate whether money laundering was increasing in the state, but she replied "no."
Clark also denies knowing that the 2016 Financial Action Task Force (FATF) report criticizes Canada for not complying with five of the FATF's 40 recommendations. did. This includes Recommendation 25, which calls on countries to take steps to prevent the abuse of legal arrangements for money laundering and terrorist financing. The FATF is an independent intergovernmental organization whose recommendations are recognized as the gold standard for combating money laundering and terrorist financing.
Clark testified for two hours with lawyer Robert Cooper. She is one of the 11 former and current ministers who will testify in the coming days.
British Columbia's Prime Minister John Horgan launched the Karen Commission in May 2019 in response to multiple reports of money laundering in the state.
The final report of the Karen Commission will be published on December 15.