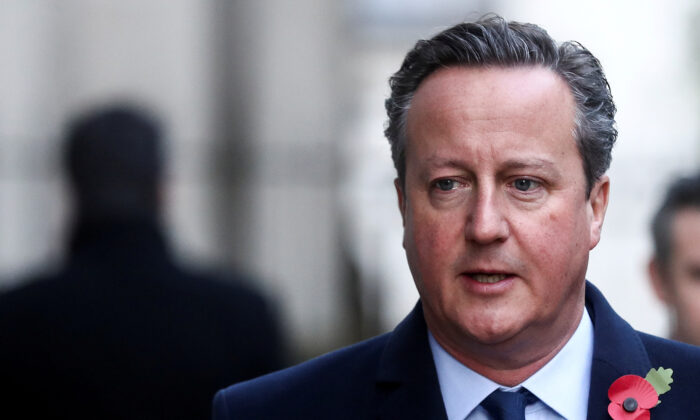 Former British Prime Minister David Cameron will arrive on November 10, 2019 in The Cenotaph, Westminster, London, England, to attend the Remembrance Sunday in Memorial Service. (Simon Dawson / Reuters)
London — Former British Prime Minister David Cameron said he acknowledged that communication with the government needs to take place through formal channels after lobbying for financier Lex Greensill on Sunday. It was.
Cameron, who served as Prime Minister from 2010 to 2016, appointed an Australian banker as an adviser while in Downing Street. After retiring, Cameron became an adviser to Greensil's bankrupt financial company.
The Financial Times and The Sunday Times said Cameron contacted the Minister directly on behalf of Green Sill Capital, sent a text to Finance Minister Rishi Sunak, and arranged a private drink between Green Sil and Health Minister Matt Hancock. I reported.
HM Treasury said the former Prime Minister had contacted Snack and two other ministers of the ministry to ask if Greensil had access to the government's COVID-19 loan scheme.
In his first comment on the column, Cameron stated in his statement to the government that he did not violate the Code of Conduct or government rules.
In the end, the result of discussions on Greensil's proposal for loans was not taken up, he said, and therefore his intervention did not change the government's approach.
"But I pondered this in detail," he said in a press conference statement to the news agency.
"There is an important lesson to be learned. As the former Prime Minister, I admit that communication with the government needs to be done only through the most formal channels, so there is no misunderstanding."
Paul Sandle