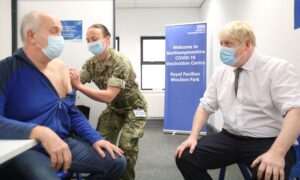 Mass vaccination against COVID-19 has ended and the UK should focus on its management as an endemic disease such as influenza, said the former chairman of the UK Vaccine Task Force.
Dr. Clive Dix, who played a key role in helping pharmaceutical companies develop the COVID-19 vaccine, said mass vaccination ended after an ongoing booster campaign and the UK was the focus. He said he should start returning to the "new normal". The focus is on limiting serious illnesses rather than stopping the spread of the CCP (Chinese Communist Party) virus.
"We need to analyze whether we are using current booster campaigns to ensure protection against the vulnerability, if this seems necessary," he told The Observer. Parents.. "This should end the population-based vaccination in the UK."
"We now need to control the disease, not the spread of the virus," he added. "Therefore, the future goal is to stop the progression to serious illness in vulnerable groups."
Dix supports the current booster campaign, but said a "new targeting strategy" is needed to put the UK in the "COVID management" position.
He said it was time to consider managing COVID-19 as a flu-like substance. "Similar to the bad flu season, you need to stop testing, isolate when you're feeling sick, and get back to work when you're ready," he said.
Dix urged the government to support research on COVID-19 immunity, including B and T cells. He said this could help create vaccines for vulnerable people that are unique to variants such as Delta and Omicrons.
Dix's intervention was made because the UK Government's Vaccination Advisory Board did not recommend that nursing home residents and people over the age of 80 receive a fourth dose of the COVID-19 vaccine.
The Joint Committee on Vaccination and Immunization (JCVI) announced on January 7 that three doses of the vaccine still provide "very good protection against severe illness" and immediate 2 to the most vulnerable. The second booster dose "provides only a limited boost," he said. At this time, there are benefits for serious illnesses. "
According to data compiled by the UK Health Security Agency, for people over the age of 65, protection against hospitalization remains at about 90% three months after the third dose.
Tim Spector, a professor of genetic epidemiology at King's College London and chief scientist for the ZOE COVID Study app, said last month that the symptoms of the Omicron variant "feel like a common cold."
Paul Hunter, a professor of medicine at the University of East Anglia, added on December 28 that COVID-19 would be "another cause of the common cold."
Lily Zhou contributed to this report.