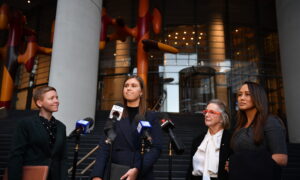 Former liberal staff Brittany Higgins said conversations with Scott Morrison were "difficult," but there was consensus on the toxic work culture reforms faced by political advisers.
Higgins met with Prime Minister and Labor leader Anthony Albanese in Sydney on April 30.
Higgins' decision to publicize allegations of rape in the Parliament's Secretariat has triggered a national rally on women's abuse and an independent review of Congress's workplace.
She told reporters after meeting with Morrison that she admitted that the system had disappointed her.
"It was a difficult conversation, but it was solid, but I think we finally got the consensus that reform was needed," she said.
The talks centered around reforming Parliamentary (MOPS) law, and Higgins said he did not provide staff with adequate workplace protection and conditions.
She also said there was "lively debate" about the need for independent authorities to address the issue of human resources in the parliamentary workplace.
"I hope it (changes) and he does the right thing by the women here."
Higgins also hoped that the Liberal Party would review its approach to women.
"Progress is slow. I expect it to happen. You'll see the time."
Asked if she had one thing to gain from her meeting with Morrison, she said: And I think it was encouraging by the end of the conversation. "
In a statement, Morrison said Higgins' views and experience were invaluable in reforming the parliamentary workplace.
"I promise to achieve an independent process to address these difficult issues," he said.
"In addition, this conference was an opportunity to personally thank her for her contribution to the government."
Earlier, she said the meeting with Anthony Albanese was constructive.
The leader of the federal opposition told reporters that Higgins' reform proposal was "modest and rational."
Just as there was an independent body that handles parliamentary expenses and a budget bureau that provides policy costs independently, there is also a need for an independent body for staff, parliamentarians, and chief of staff to seek advice and raise workplace issues. He said.
"She showed extraordinary courage to move forward, to be the voice to stand up for women and for problems that require real solutions," Albanese said.
"We need to listen to women, listen to women's concerns, and listen to the experiences they have experienced."
Gender Discrimination Commission Kate Jenkinson is tasked with reviewing the Congressional workplace, including the operation of the MOPS Act.
After receiving the evidence and submissions, she will submit an interim report in July and a final recommendation in November.
Paul Osborn