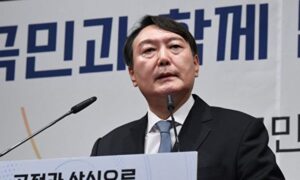 Former South Korean Attorney General Yoon Seok-yul recently announced a presidential candidate. He strongly accused the Moon Jae-in administration of being "injustice" and emphasized the need for a "condensation of power."
The Korean general election is about to begin. On June 29, Yun officially announced his challenge to the presidential election. At a press conference that day, Yun spent about half of his time condemning the current administration's misconduct, saying it was too much to list all of them, emphasizing the need for a restructuring.
He criticized the Moon administration's core policies of "income-led growth," "real estate policy," "procurement reform," and "collapse from nuclear power plants." He said the government "ignored common sense, justice and the rule of law, disrupted the country's foundations and plunged the people into frustration and anger."
At the same time, he promised to "restore the collapsing liberal democracy and rule of law and create fair value across time and generations."
Meanwhile, Yun said that the international community has undergone dramatic changes, with core state-of-the-art technology and industrial facilities shared only among countries that respect the values ​​of human rights, the rule of law and democracy. Said it should be. Diplomacy and security are inseparable from economics, domestic affairs and international affairs.
"In the international community, South Korea needs to clearly demonstrate its universal value as a civilized country," said the candidate, working on the current administration's approach to international diplomacy. "We need to show exactly what South Korea is and what it looks like in the first place, and provide predictability to all our enemies and friends, partners and competitors."
At the press conference, Yun used the word "regime change" eight times and the word "freedom" 22 times.
He called on all like-minded citizens and troops on all sides to work together for a change of power, and said he was ready to devote himself to people and the country.
Yoon Seok-yul (61) clashed with the moon administration over "prosecution reform" while he was the prosecutor's president. In addition, he has been oppressed by the government because he led a politically sensitive investigation of corruption by key figures in the ruling party, making him a strong presidential candidate.
Yun has been at the forefront of polls for presidential candidates since he resigned as Attorney General in March.