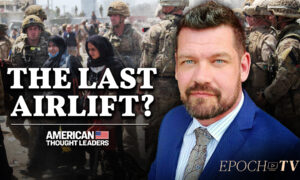 Exclusive: Former Special Forces Michael Brewer on heroic rescue operations to airlift Afghan Americans from Afghanistan
"He was being actively searched by the Taliban … they hacked his phone."
As escape from Afghanistan becomes more dangerous, a group of former special forces operators are working with people on the ground in Kabul to rescue Americans and their Afghan allies and safely airlift them. "We are currently tracking more than 3,000 individuals," said Michael Brewer, a veteran of US Army Special Operations and an experienced counterterrorism intelligence expert.
He and his team are a rough group of stakeholders known as Project Archangel, working 24 hours a day to help as many people as possible. See the Project Afghan Relief Fund for more information. http://parf.us..
Subscribe to American Thought Leaders Newsletter Never miss an episode.
You can also follow American ideological leaders parlor, Facebook, Also YouTube..If you want Donate To support our work, you can here..