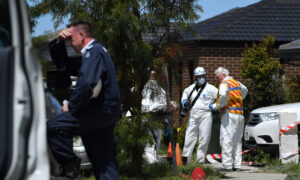 After a house fire in southwestern Melbourne, four children under the age of 10 died and their parents and siblings aged eight were hospitalized.
Firefighters were called to Welliby's Mantello Drive shortly before 1am on Sunday to find the roof of the property in flames.
Lieutenant Damian Molloy of the Welliby Fire Brigade said the house was "very well off" when the crew arrived.
"The fire had already broken through the roof and came out of the front door," he told reporters on Sunday.
"We noticed three people who escaped the fire."
Four children were trapped inside the house, but the intensity of the flames made it difficult for the crew to find them.
"It was dangerous for the members to be able to move first because the roof was already in jeopardy and the tiles had collapsed," Moroi said.
"The pain of parents and eight-year-olds made it difficult to get accurate information early on to focus on our search area."
It took about 40 firefighters to control the fire in less than an hour.
Two girls aged 1 and 6 and two boys aged 3 and 10 were found dead in the house.
Their parents and another 8-year-old boy managed to escape the fire and are hospitalized.
Men suffered serious smoke-related injuries, boys suffered minor injuries, and women inhaled smoke.
One firefighter was evaluated by an emergency medical personnel for chest pain.
"It's the fire we've seen many times before, but the complexity involves trapping four children in the house," Moroi said.
He said the fire brigade wanted to go home to find the children and felt "in a sense, a little helpless."
"We don't want to put ourselves at the level of risk that is likely to be in recovery from the beginning," he said.
Victoria police arson and explosive detectives are investigating the cause of the fire and will prepare a report for coroners.
Detective senior sergeant Ashley Ryan said it couldn't be said if the fire was suspicious.
He did not comment on reports that it might have taken 10 minutes to contact Triple Zero after the flames erupted, saying investigators were talking to surviving families at the hospital.
"It's a terrible situation, a very difficult situation for family members, and our hearts are turned to the family and the community this morning," Ryan said.
"But given the circumstances of what happened, it's also very painful for Victorian police and paramedics members."