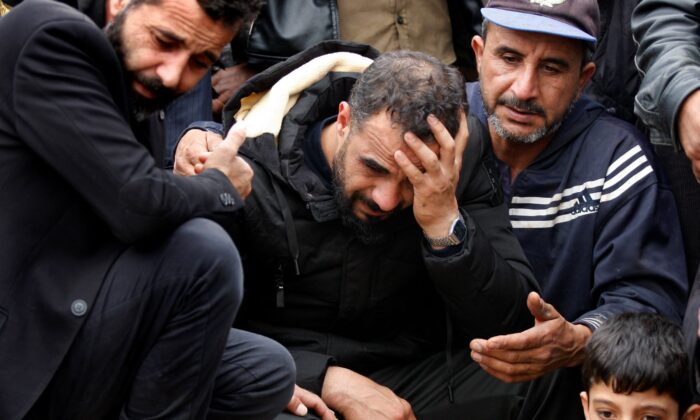 Syrian Maher al-Abdallah (C) and his wife died during sleep after burning coal and inhaling toxic gas to warm the room during a funeral procession in Al-Wasta village near Sidon, a southern port town in Lebanon. Mourning one child. January 2, 2022. (Mohammed Zaatari / AP Photo)
Beirut — A rescue group said Sunday that a Syrian mother and her three children died during sleep after burning coal to inhale toxic gas to warm a room in a village in southern Lebanon.
Youssefal-Dor, an employee of the Resala Health Ambulance Association, said the bodies were taken from a hospital where four people were sentenced to death and buried.
According to Aldol, the family used coal to warm their rooms on cold nights at their home in Karayab, a southern village overlooking the Mediterranean Sea.
The Lebanese state news agency said four people had died at home.
Lebanon, a country of 6 million people, is now home to 1.5 million Syrians who have fled the civil war that occurred 10 years ago. They often live in filthy camps and poor homes.
As Lebanon tackled an unprecedented economic crisis, the poverty of both Lebanese and Syrians deepened. The United Nations estimates that 90 percent of Syrian refugee households are in extreme poverty.
Sara El Dive