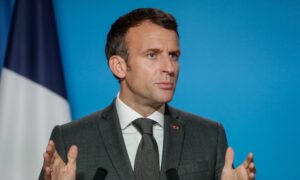 Paris — According to a newspaper report on Tuesday, mobile phones of French President Emmanuel Macron and 15 members of the French government are one of the potential targets of spyware surveillance created by the Israeli-based NSO group. It may have been.
The Paris Prosecutor's Office has announced that it is investigating allegations of widespread use of Pegasus spyware targeting journalists, human rights activists and politicians in multiple countries.
The French daily Le Monde reported that the phone numbers of Macron and then government members were identified from among the thousands allegedly selected by NSO clients for potential surveillance. According to Le Monde, in this case the client was an unidentified Moroccan security service.
Le Monde is part of a global media consortium obtained by Forbidden Stories, a non-profit journalism group based in Paris, and Amnesty International, a human rights group, and targeted from a list of over 50,000 mobile phone numbers shared with 16 media outlets. was.
Members of the consortium said they were able to associate more than 1,000 numbers on the list with individuals, including more than 600 politicians, government officials and 189 journalists. Among them was the number of French journalists and politicians.
The consortium reported that members of the Gulf royal family, heads of state, and prime ministers were on the list.
Macron's office did not respond to requests for comment on the report. Le Monde quoted the NSO that the French president had never been targeted by a customer.
The NSO Group denied maintaining a "list of potential, past, or existing targets." It called the forbidden story report "full of false assumptions and unsubstantiated theories."
The cause of the leak and its authentication method have not been clarified. The consortium did not attempt to hack the device just because the data contained a phone number, but said the consortium believed that the data pointed to potential targets for NSO government clients. It was.
The Paris Prosecutor's Office said in a statement Tuesday that it had begun investigating a number of potential allegations, including privacy breaches, illegal use of data and illegal sale of spyware.
As is common in French law, the investigation does not appoint a suspect, but it aims to ultimately determine who will be sent to trial. It was prompted by legal complaints by two journalists and the French research website Mediapart.