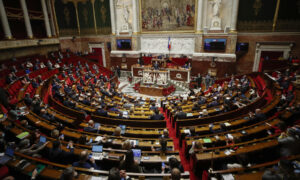 Paris — On April 1, the French Prime Minister defended a new national measure to combat the resurrected coronavirus in France. This includes school closures for at least three weeks and a one-month ban on domestic travel. "
The French House of Representatives has resolved to approve the new measures by 348–9 by April 1, after the opposition boycotted the vote in unison.
Left-wing disobedient French party Jean-Luc Melenceon accused the vote of "bad April Fool's Day." He dismissed the measure as half-hearted and urged President Emmanuel Macron to increase vaccine supply and adopt a more effective vaccine strategy.
On April 1, the World Health Organization criticized the deployment of vaccines in Europe as "unacceptably slow."
Prime Minister Jean Castex said: There is no reason to believe that we are moving along the path of possible exits to the crisis. "
He said more than 8 million people in France have been vaccinated at least once.
Faced with a surge in COVID cases in the suburbs of Antony in southern Paris, parents and teachers greatly welcomed the announcement that the school will be closed for three weeks on April 2, earlier than the planned Easter holiday. ..
Some head teachers welcomed the plan, saying the virus put too much strain on staffing.
"We have reached the stage where everything collapses …. We were all exhausted," said Aline Becker, the primary school and preschool principal.
The French government has announced that there is support for the poorest families to cope financially at high or impossible childcare costs. Castex confirmed assistance to "a modest family whose children will not be able to go to the cafeteria or enjoy a free breakfast."