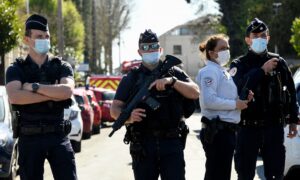 Paris — The killing of a female police officer in a commuter town in Paris on Friday was an attack on the French Republic, Prime Minister Jean Castex said Saturday.
An attacker, a French resident from Tunisia, stabbed two mothers, police officials, at a police station in Rambouillet, just south of Paris. The attacker was shot dead by the police.
Authorities have not motivated the killings. President Emmanuel Macron said Friday that France was the victim of a terrorist attack.
"Once again, the republic was attacked. Once again, the French state was threatened. Castex told reporters in the southern city of Toulouse on Saturday.
BFM TV said Castex will meet with other government ministers in Paris later Saturday.
A French anti-terrorism prosecutor said he was leading the investigation because of the perpetrator's previous reconnaissance of the scene and what he said during the attack.
Judiciary sources close to the investigation said the attackers shouted "Alahu Akbar" or "God is the best."
In recent years, there have been several attacks by Islamic extremists in France.
Bataclan theaters and other locations around Paris killed 130 people on November 13, 2015, and Islamic extremists tracked through a crowd celebrating the Nice Paris Festival in July 2016. Driving in, 86 people died.
Last October, a French school teacher was struck by a Chechen teenager in another commuter town near Paris, Confran, and then shot dead by police.
By Sudip Kar-Gupta and Caroline Pailliez