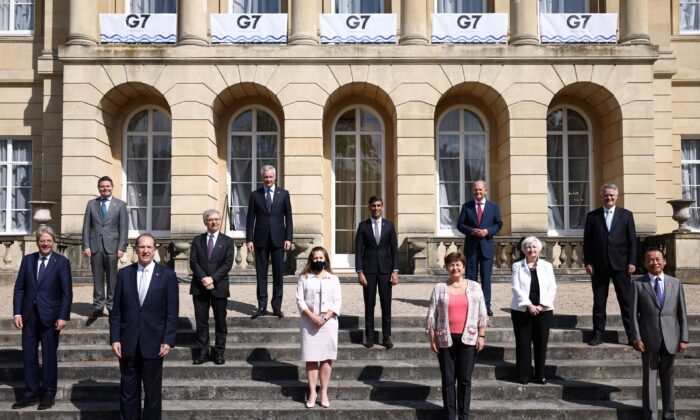 EU Economic Commissioner Paschal Donohoe, Eurogroup Governor Paschal Donohoe, World Bank Governor David Malpas, Italy's Finance Minister Daniel Franco, France's Finance Minister Bruno Lemer, Canada's Treasury Christia Freeland Minister of Finance, UK Treasury Minister Lisi Snack, Managing Director of IMF Christalina Georgieva, Finance Minister Olav Schortz of Germany, US Treasury Minister Janet Jellen, Secretary-General Matthias Colman of the Economic Cooperation and Development Organization (OECD), Finance Minister Taro Aso Meeting at Lancaster House in London on June 5, 2021. (Henry Nichols / Reuters)
London — A group of the wealthiest countries in the world reached a groundbreaking deal on Saturday to close the cross-border tax loopholes used by some of the world's largest businesses.
The Group of Seven said it would support a global corporate tax rate of at least 15% and would take steps to ensure that taxes were paid in the countries in which it operates.
UK Treasury Minister Rishi Sunak told reporters, "After years of debate, the G7 Treasury has reached a historic agreement to reform its global tax system to adapt it to the global digital age. ".
The agreement could be the basis for next month's World Agreement and aims to put an end to decades of "race to the bottom".
As a result, their public financial resources amount to hundreds of billions of dollars, and the shortage needs to be regained more urgently in order to pay the enormous costs of supporting the economy devastated by the coronavirus crisis.
Ministers met in person in London for the first time since the start of the COVID-19 pandemic.
Ministers also agreed to make it easier for investors to decide whether to invest by declaring their environmental impact in a more standard way.
Wealthy countries have struggled over the years to agree on ways to make more money from large multinationals such as Google, Amazon and Facebook.
US President Joe Biden's administration has given new stimulus to stagnant talks by proposing a minimum global corporate tax rate of 15 percent, which is above the levels of countries such as Ireland but below the G7 minimum.