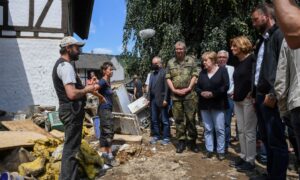 German Chancellor Angela Merkel promised prompt financial assistance on Sunday after visiting one of the most affected areas of the record flood in the country, which killed at least 157 people in the past few days.
"We are by your side," Merkel called the situation there "terrifying" to the inhabitants of the small town of Adenau in Rhineland-Palatinate, Germany.
She added that a short-term relief program would be launched by the government on Wednesday.
Flash floods struck Bavaria in southern Germany on Sunday, killing at least one person as efforts continued to track down the disappeared.
Roads turned into rivers, some vehicles were washed away, and the area was buried under the thick mud of Berchtesgadenerland. Hundreds of rescue workers were looking for survivors in the area bordering Austria.
"We weren't prepared for this," said Berchtesgadenerland district manager Bernhard Khan, adding that the situation deteriorated "dramatically" late Saturday and the paramedics had little time to act. I did.
About 110 people were killed in the worst-damaged Ahrweiler district in southern Cologne. More bodies are expected to be found as the flood recedes, police said.
The European floods that began on Wednesday struck mainly Germany's Rhineland-Palatinate, North Rhine-Westphalia, and parts of Belgium. The entire community was cut off without power or communication.
At least 46 people have died in North Rhine-Westphalia. Belgium's death toll reached 31 on Sunday.