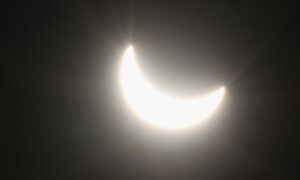 Frankfurt-Germany's grid is preparing for a solar eclipse this week, which could plunge solar power output by about 1 gigawatt, said grid company Amplion on Monday.
The event will take place Thursday from 9:20 am to 11:40 am in Scandinavia, said Prion's Background Paper.
This is expected to have a milder impact than the 2015 solar eclipse across Europe in 2015, which reduced output by 15 GW in countries requiring up to 80 GW of electricity on winter days. The four German high-voltage grid operators (TSOs) cannot store large amounts of electricity and must balance the grid.
An Amplion spokeswoman said, "Network frequencies need to be stable and production fluctuations need to be balanced.
TSOs can take advantage of alternative energy sources such as coal, gas, nuclear and hydropower. 1GW is equivalent to the installed capacity of a nuclear power plant.
They also bid for a balancing capacity of 500 MW. This allows you to boost your power supply within 5 minutes, and with an additional 500 MW, you can reduce inputs and quickly smooth supply fluctuations.
Amprion said the TSO, including TransnetBW and TenneT, will release an analysis of the grid situation that could occur on June 10th on Wednesday.
Germany can theoretically get 40 GW of solar power, but its output depends on sunshine intensity and cloud cover.
The sky in northern Germany can be covered by a solar eclipse by 20%, and in southern Germany the rate can be as high as 2.5%.
East Germany's TSO 50 Hertz said Berlin can see a lower rate of 13% coverage in Saxony and Thuringia.
By Vera Eckert