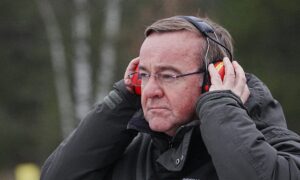 BERLIN—Germany's €100 billion ($108 billion) special defense fund is no longer enough to meet its needs, new Defense Minister Boris Pistorius said in an interview with Süddeutsche Zeitung on Friday. Stated.
Pistorius, who took office last week after his predecessor resigned, said Germany would also need to increase its normal annual defense budget from the current around 50 billion euros.
Germany also needs to replenish its military hardware inventory, including replacements for the 14 Leopard tanks it agreed to send to Ukraine to help Berlin fight off a Russian invasion, according to a new the secretary of defense said.
Reluctant to burden younger generations, saying Germany made a mistake in suspending compulsory military service in 2011, but open to discussing new models for strengthening citizen-state relations said.
After Germany approved the delivery of Leopard 2 tanks earlier this week, Pistorius said this was "ruled out" when asked if it would send fighters to Ukraine, the next request from Kyiv.
"Fighters are much more complex systems than main battle tanks, with completely different range and firepower. I'm currently going to challenge the dimensions I warn," Pistorius said in an interview.
($1 = 0.9223 Euro)