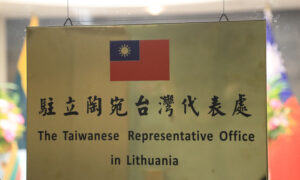 Central and Eastern European policies regarding China and Taiwan may change in the next few years. While China has lost influence in the region, Taiwan has expanded ties with countries such as Lithuania, the Czech Republic, Slovakia and Hungary.
What lies behind China's declining role in Central and Eastern Europe? What factors have shaped Taiwan's relationship with regional states? How can Taiwan strengthen its position in the region? do you want?
Kristina Kironska, Assistant Professor at Palacky University, Olomouc, Czech Republic. Jakub Janda, Executive His Director of the European Values ​​Center for Security Policy (EVC). He is Filip Šebok, Project Manager and China Research Fellow at the Czech Republic Association for International Affairs (AMO). Dr. Agnes Snomar, Associate Professor at Corvinus University, Budapest, addressed the above question during his discussion on a panel hosted by the Global Taiwan Institute (GTI) on his March 15th at 10:00am ET. presents an opinion on
GTI Program Manager Marshall Reid will moderate the discussion.