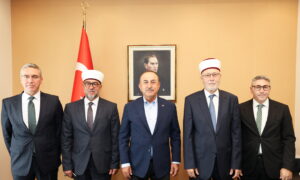 Athens — Greece resented a statement by Turkish Foreign Minister Mevrut Chavsogur on Sunday, describing a Muslim minority member in northern Greece as a Turk and saying he was not granted full citizenship.
A statement by Cavusoglu was issued during a private visit to the northern region of Thrace on Sunday prior to Monday's official meeting between Greek Prime Minister Kyriakos Mizotakis and Foreign Minister Nikos Dendias in Athens.
The two foreign ministers clashed openly at a press conference in Ankara last month, following talks aimed at relieving tensions between their two historic rivals.
According to a video provided by the Turkish Ministry of Foreign Affairs, "We want to give Greece the same rights that we give the Greek Orthodox Church and the Greek minority to the Turks in Western Thrace.
A century after the two countries fought the war, which lost more than one million people on both sides of the border, Turkey said the region's approximately 120,000 Muslim community was a minority in Turkey, Athens. Describes them as follows: Greek Muslims.
"Turkey's constant efforts to distort reality, and Turkey's allegations of its lack of protection for the rights and discrimination of these citizens, are groundless and completely rejected," said a spokesman for the Greek Ministry of Foreign Affairs. Alexandros Papio Anou said in a news release.
The two NATO members are at odds over issues ranging from competing for maritime territorial claims in the eastern Mediterranean to the status of Cyprus and the treatment of immigrant vessels.
Last year, during a conflict over energy exploration, when naval vessels from both countries approached each other in disputed waters, they approached an armed clash.
Tensions have eased slightly in recent months, and authorities resumed preliminary talks on the conflict earlier this year after a five-year suspension.
By Lefteris Papadimas, Ezgi Erkoyun, Yesim Dikmen