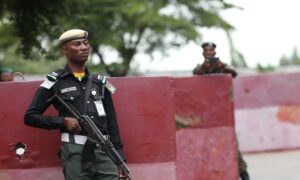 Abuja-The Nigerian Army general was shot dead by Gunmen while driving down the main road from the capital Abuja, the army said Friday.
Many people are afraid to travel on the road, especially in the northwest, due to frequent armed robbery and kidnapping for ransom. Due to rising nationwide lawlessness, the legislature called on the president to declare a state of emergency in April.
Brigadier General Oniema Nuwachuku, an Army spokesman, said in a statement that Maj. Gen. Hassan Ahmed was killed when he attacked his car along the Lokoja Abuja road on Thursday. Located 200 km (124 miles) south of Abuja, Lokoja is the capital of Kogi.
Nwachukwu did not say who was traveling with Ahmed or how far he was from Abuja, but local media said the deceased general was with his driver and relatives. It was.
Ahmed is the director of the Army Headquarters and was formerly the Army's military police commander. Last year, two retired generals were shot dead in an attack while traveling on the road, but no general has ever been killed this way.
Anxiety in northwestern Nigeria is joined by a rebellion of Northeastern Muslims, which the United Nations says has killed 350,000 people in 12 years.
In the middle of the country, a conflict between nomads and farmers has killed thousands and evacuated 500,000 in the last decade, according to Doctors Without Borders, a French medical charity. In the southeast, a series of recent police attacks have raised fears of a return to war and state-approved violence.
By Camillus Eboh