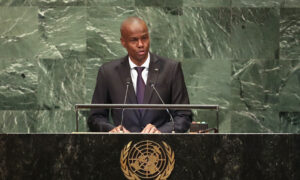 Jacqueline Charles
From Miami Herald
Haiti's Port-au-Prince — Haiti's President Jovenel Moise will rest at a state funeral on July 23, the government said Friday.
Moise's funeral takes place in the city of Cap-Haitien in the northern part of the country. The historic city is close to both where the late president was born and where he began his entrepreneurial career. It is also where the Republic of Haiti was born after former slaves defeated French colonists in the Battle of Vertières, the last major battle of the Haitian Revolution on November 18, 1803. Haiti declared freedom on January 1, 1804.
Moise was assassinated at midnight on July 7. Nearly 20 people were arrested in connection with the killings. Most of them are Colombians.
Moise's wife, Martine Moise, was injured in the attack. She was sent to Miami and remains hospitalized at the Jackson Health System Rider Trauma Center.
© 2021 Miami Herald.Please visit miamiherald.com.. Distributed by Tribune Content Agency, LLC.