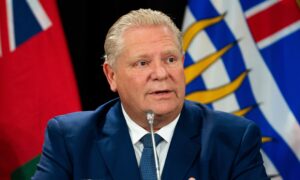 Ontario Prime Minister Doug Ford has said he will ask the federal government for more funding and longer-term financial commitments for home and long-term care as negotiations on new health care contracts continue.
Ford is meeting with Minister for Intergovernmental Affairs Dominique Leblanc and Federal Health Minister Jean-Yves Duclos in Ford's office in the Ontario Legislature today.
Heading to the conference, Leblanc and Duclos said they were looking forward to bilateral talks.
The federal government presented to provinces and territories on Tuesday a proposal to add $17 billion to Canada's health insurance over 10 years.
Ottawa also provided an immediate and one-time additional $2 billion to ease pressure on emergency rooms and children's hospitals, plus this year's grants to family physicians, mental health, surgical backlogs, and medical We plan to add another $25 million to our data systems.
Ford and Health Secretary Sylvia Jones are open to new funding from the federal government but want contracts much longer than 10 years and want more investment in home and long-term care.