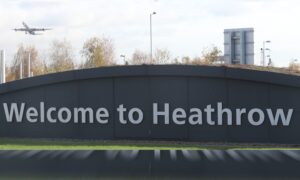 Heathrow announced that the cumulative loss from the COVID-19 pandemic has reached £ 2.9 billion ($ 4 billion).
Less than 4 million passengers passed through the airport in western London earlier this year.
It took only 18 days to reach that total in 2019.
The airport warned that this year's passenger numbers could be lower than in 2020.
By 2020, approximately 22.1 million passengers used the airport, with more than half of the passengers traveling in January and February before the virus crisis led to a collapse in demand.
Heathrow Airport described recent changes to quarantine and inspection requirements for people arriving in the UK as "encouragement," but warned that the rules were "suppressing the UK's economic recovery."
John Holland Kay, Chief Executive Officer of the airport, said:
"By replacing the PCR test with immunochromatography and opening it to EU and US vaccinated travelers at the end of July, the UK economic recovery will begin to take off."
He said EU countries were open for travel between each other and from the United States.
The Ministry of Transport has promised a formal review of the traffic light system by Saturday.
Asked about arriving passengers facing a two-hour queue over the weekend, Holland Kay said, "Border police officers were pinged and caught up in some electronic gates not working." Stated.
He continued. "Most people crossing the Heathrow border have a very good experience and they pass in minutes. That's normal.
"I apologize to the passengers involved on Saturday."
A huge number of people have been "pinged" by the NHS app as COVID contacts and told to self-quarantine.
Heathrow's revenue fell from £ 712m ($ 891m) in the first half of 2020 to £ 348m ($ 480m) earlier this year.
Meanwhile, pre-tax losses increased 18% to just over £ 1 billion ($ 1.38 billion).
Neil Lancefield