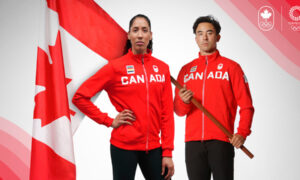 Tokyo — Women's basketball player Miranda Ayim and men's sevens rugby player Nathan Hirayama were selected as Canadian flag bearers at the opening ceremony of the Tokyo Olympics.
They are members of the first team sport chosen to lead Canadian athletes to the Summer Olympics.
"I am very honored to represent Team Canada at the opening ceremony with Nate and lead Team Canada," Ayim said in a video conference on Monday. Movement to the coast has been strengthened, showing a sense of unity, resilience and solidarity. "
The opening ceremony will be held on Friday.
Tokyo will be the third and final tournament for Ayim, who made his Olympic debut at the 2012 London Olympics and announced that he will retire following Tokyo.
Ayim and the 4th place women's basketball team aim to win Canada's first medal next Monday.
Hirayama is the co-captain of the Canadian sevens rugby team and has helped the team win two gold and one silver medals at the last three Pan American Games.
The Canadian Men's Seven Team will make their Olympic debut in Tokyo and will start playing on Sunday.
"It's a great honor to be asked to do this, especially with someone who has a career that is decorated and like Miranda had," Hirayama said. .. "
The exposure of Canadian flag-bearers was made by Prime Minister Justin Trudeau on Monday morning.
"Miranda and Nathan are the leaders of their respective teams. They embody the resilience, patience and excellence of Team Canada."
Trampoline champion Rosie MacLennan raised the Canadian flag at the opening ceremony of the 2016 Rio de Janeiro Olympics.
Women's hockey star Hayley Wickenheiser was the last member of the team sport to carry maple reefs at the Olympic ceremony and hosted the 2014 Winter Olympics in Sochi, Russia. Women's soccer captain Christine Sinclair, who raised the flag at the 2012 London Olympics, was the last of the Summer Olympics.