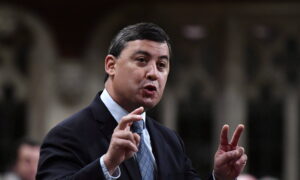 The House of Commons committee unanimously voted on Wednesday, accusing Beijing of sanctioning parliamentarians and parliamentary subcommittees.

Members of the Standing Committee on Foreign Affairs and International Development said Beijing was "in solidarity" with Conservative Rep. Michael Chong after announcing sanctions on him and the Commons Subcommittee on International Human Rights. March 27..
Both Chung and the Subcommittee have been instrumental in investigating and calling for human rights abuses by Uighur Muslims in the Xinjiang Uighur Autonomous Region by the Chinese administration.
Liberal Party lawmaker Ruby Sahota has filed a motion to "strongly condemn" China's sanctions. "It represents an insult to Canada's democracy and parliamentary system."

"These sanctions are just retaliation that I feel is unacceptable and unjustified," Sahoda said in a meeting.

"We believe that parliamentarians, especially this committee, should take a cohesive and clear stance first and foremost to condemn this action by China."

Mr Chung said the sanctions do not personally affect him, but nonetheless, Beijing's attempt to silence Canadian parliamentarians.

"They are trying to silence us. They are about violations of international law in the form of the 1948 Genocide Convention that China is genocide against a minority of Uighur Muslims in the Xinjiang Uygur Autonomous Region. I'm trying to prevent him from speaking. "

February 22, MP Voted Unanimously declares the persecution of the Chinese administration against Uighurs and the genocide against the motion submitted by Mr. Chung. Prime Minister Justin Trudeau and his cabinet abstained from voting.
One month later, March 22, Canada Presentation Sanctions on four Xinjiang Uighur Autonomous Region officials and one organization in China for "their participation in serious and systematic human rights abuses" against Uighurs.
Mr Chung emphasized that MPs should not allow Chinese sanctions to silence them, but should focus on "why we were sanctioned." Later, Beijing's infringement of rights, including Uighur abuse, violations of the Hong Kong International Treaty, continued persecution of Tibetans, arbitrary imprisonment of Canadians Michael Kobrig and Michael Spaber, and arbitrary imposition of the death penalty. I have listed some. About 20 years of imprisonment of Robert Schellenberg of Canada and Ceryl of Uighurs of Canada.

Liberal Party lawmaker Sameer Zuberi agreed.

"We need to continue to focus on the main issues of stopping rape, torture, forced sterilization, abortion, forced slave labor, saving lives and reducing harm. There is, "Zuberi said, referring to Uighur abuse.

New Democratic Party Rep. Jack Harris amends Mr. Sabota's motion to add the statement, "As a member of parliament, we will continue to actively condemn human rights violations and violations of international law in line with respect for basic human rights." Propose and report the motion. At home.

The committee unanimously voted in favor of the amendment.

Rep. Bloc Québékova said Beijing's sanctions crossed the boundaries of the basic principles of the British parliamentary system.

"If there is a single imminent rule in the British parliamentary system, it is the very ability to do its job safely from the pressure of parliamentarians," said Bergeron.

"If you can't accept this from the inside, you certainly can't accept it from the outside."

Conservative Rep. Garnett Genuis said Beijing's sanctions are evidence that Mr Chung and the Human Rights Subcommittee are putting pressure on the administration.

"These criticisms are influential, and the greater the impact, the more likely it is that behavioral changes will be seen," Genuis said.

Mr Zuberi said Canada needs to continue to call on the administration's vigilance against crimes against humanity.

"Every citizen needs to keep alerting and everyone has an agent. Citizens have agents and their agents know that they know others around them. To share with, "he said.

"Social media, in the family, in the workspace. It's a form of behavioralism and a form of forward movement to help us all do what we're doing together right now."