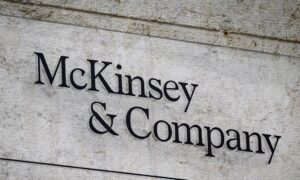 A motion by Conservative MP Garnett Genius to investigate the contract the Liberal government gave to multinational consulting firm McKinsey passed unanimously in the House of Commons on February 7.
Motion to be approved by House of Representatives report of the Standing Committee on Government Operations and Estimates (OGGO), which studies federal consulting contracts awarded to McKinsey & Company;
The Commission's report recommended that: "
The commission began investigating contracts awarded to McKinsey after it reported that the dollars the CBC spent on McKinsey had increased exponentially since the Liberals took power in 2015.
On February 6, the Commission heard testimony from Public Services and Procurement Minister Helena Jaczek. Her department has spent her $104.6 million on McKinsey since 2015.
Jaczek, who took over the portfolio in August, said she shared concerns about over-outsourcing, but was unable to answer many questions sent by lawmakers and was referred to her representatives.
Prime Minister Justin Trudeau ordered Jacek and Finance Council President Mona Fortier to investigate the matter after the news broke.
The committee also heard input from former McKinsey partner Ehren Cory, who later became CEO of Canadian Infrastructure Bank (CIB).
Cory said CIB gave McKinsey a contract prior to his tenure and not a single dollar has been spent on the company under his supervision.
CIB is a Crown Corporation formed in 2017 on the recommendation of the Economic Growth Advisory Committee chaired by McKinsey President Dominic Burton.
Burton was then appointed Canada's ambassador to China in 2019, but resigned in 2021 after Beijing released Michael Kovrig and Michael Sparber.
Burton testified before a government steering committee on February 1, downplaying his personal ties to the Trudeau administration and the importance of federal contracts to the company's bottom line.
Globe and Mail previously estimated that the New York-based company's federal contracts accounted for 10% of Canada's total revenue from 2016 to 2022, based on McKinsey's filings with U.S. courts. I was told there was
Public Services and Procurement Canada (PSPC) told the Epoch Times on Jan. 26 that 24 contracts had given McKinsey a total of $104.6 million since the Liberals took power in 2015. .
The PSPC added it was aware of contracts signed by other divisions totaling $12.2 million, noting that the investigation had not been completed.
McKinsey defends its work for the government and pinpoints other consulting firms doing more business with Ottawa.
"Government work in Canada is completely non-partisan in nature and focused on key management topics such as digitization and operational improvement," McKinsey said in a January 10 statement. We will not make policy recommendations regarding
Noë Chartier and Peter Wilson contributed to this report.