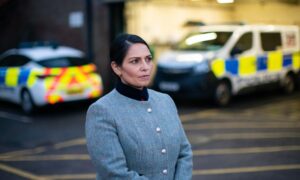 The interior minister said police officers should not face "social media trials" and called for more worn video footage of the case.
In a speech at the annual meeting of the English and Wales Police Union, Priti Patel supported plans to work on a "misleading" video clip uploaded to social media, where "transparency is essential".
She told the audience: "We do not allow police to be tried by social media.
"That's why I endorsed the federation's call for sharing of worn video footage to counter the highly selective and misleading video clips uploaded to social media.
"I will be more willing to share the video footage I wear to emphasize the great work of police officers, build public trust, and correct harmful false alarms circulating online. I hope that.
"We are essential to victim reporting, information-driven police activities, and to maintain public confidence in police activities, which is essential to maintain our valuable model of consent police activities. It is important to function as a system.
"As part of this process, transparency is essential, so we will carefully consider enhancing the value of our community surveillance systems and the videos we wear."
John Upter, the national chairman of the federation, which represents police officers in general positions, claims that police officers routinely face "media trials."
"My colleagues have been dried up by the media, some politicians, and so-called self-proclaimed police experts," he said.
Asking the Minister of Interior for help, he went on to say: When you see people reaching for their phone, instead of dialing 999 for help, they reach for the phone to film the attack just for entertainment.
"Social media companies also need to take greater responsibility, and governments need to ensure that this is done.
"What kind of society did we become when attacking police officers was considered to be nothing more than entertainment and sports?
"Or, if the selected clip in the video is published without context, the responsible people will blame the police for their actions without knowing all the facts."
In the last 18 months, there have been many cases where police officer footage posted on social media has attracted public attention.
Last April, an officer at the Lancashire Constabulary was filmed telling a man to "make something up" and detain him.
In the second case of the month, a South Yorkshire police officer mistakenly threatened to fine a family member in his front yard.
In July, there was widespread footage of athlete Bianca Williams and her Portuguese sprinter partner Ricardo dos Santos stopping while driving in West London.
During the incident, the two were handcuffed and five police officers were investigated on suspicion of misconduct.
The Metropolitan Museum of Art was also criticized by social media for holding a memorial rally in March in Clapham in southern London in memory of Sarah Everd.
However, when surveillance agencies found that police acted proportionally, the unit was acquitted and opposed to celebrities, including Sir Ed Davy, the leader of the Liberal Democratic Party, who had sought to resign as commissioner. Caused.
Katrina French, founder and director of police surveillance organization Unjust, said, "Social media videos may not capture or portray the entire case, but with the police, which the general public is concerned about. It is important to keep track of and report on encounters.
"I support BWV [body-worn video] It is available, but should not be a propaganda tool used to ignore legitimate concerns from those who have experienced unfair or disproportionate crackdowns. "
"Smartphone availability and access to social media are important tools to highlight police fraud and injustice," said Mark Johnson, head of law and policy at Campaign Group's Big Brother Watch. It's annoying that the Interior Minister hates the empowerment of individual citizens and the accountability of the police.
"The police federation's proposal that social media companies should censor unobtrusive police footage following George Floyd's murder anniversary is clearly selfish and ridiculous. This approach favors civil liberties. It violates the principle of crackdown by consent. "
"We all want to be safe in the community, and videos shot by bystanders are powerful in recording abuse and misuse of power," said Rosalind Comyn, manager of policies and campaigns for the human rights group Liberty. Many frauds have come to light because bystanders felt they were empowered to take videos and challenge the police, and police watched over them. Should be welcomed.
"Wearing videos can be selectively turned on, showing a limited perspective, and according to today's speech, they are used as a PR tool rather than accountability. This is discrimination. We will once again ignore the concerns of the community, which is most vulnerable to excessive crackdowns.
"Government needs to focus on evidence-based solutions to keep communities safe."