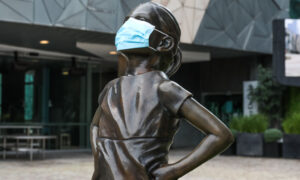 Four of Victoria's new COVID-19 cases are more infectious Delta variants, and Health Minister Martin Foley said on Monday that the case occurred in the state, also known as B.1.617.2. We confirmed that it was related to the epidemic of the subspecies. Suburbs of West Melbourne.
The cases are 3 children and 1 adult, and the total number of outbreak cases is 14.
State testing commander Jeroen Weimar said there were 350 exposure sites throughout Victoria, while more than 5,800 were quarantined after contact with positive patients.
Authorities do not yet know how Delta variants are spreading in Melbourne.
Brett Sutton, Chief Health Officer of Victoria, said authorities are looking at genomic sequence data across the country for answers.
The virus is suspected of being leaked from hotel quarantine or by returning travelers who have been provided with an exemption for quarantine at home.
Some foreign diplomats are allowed to quarantine at home.
Asked if a diplomat might have spread the virus, Sutton said, "We simply don't know. I'm not going to deny anything.
"It is clear that we are checking everyone tested, and diplomats should also be tested."
About 10 people in Victoria have been exempt from quarantine since early April, Sutton said.
He said the blockade in Melbourne was scheduled to end Thursday at 11:59 pm as there were no new exposure sites associated with 11 new cases.
However, Sutton denied returning to the relaxed restrictions that had been enforced before the epidemic.
"It's certainly not a big gathering or a snapback to a complete MCG," he said.
"I can't tell you right now. It's still early in the early days. It's frustrating. People want to know what's going on in three days.
"(But) we see a lot of changes every day, which may be due to the leftist hands."
24,265 Victorians were tested on Sunday and 17,719 were vaccinated at state-owned facilities.
Federal Health Minister Greg Hunt announced on Sunday that an additional 100,000 vaccines will be available in Victoria.
The federal government has also extended the suspension of JobSeeker's mutual obligation requirements until June 15.