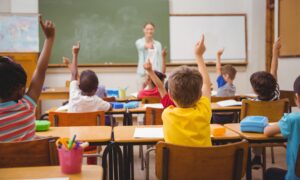 Commentary
What makes you a good citizen? In other words, how are good citizens formed? It is at the heart of both our democracy and the original purpose of our educational system. In light of the celebration of Canada Day and the recent call to look back on Canada's past injustices, such questions are worth looking back.
How do you educate the next generation to join the community of citizens in a way that strengthens democracy and social cohesion?
Some argue that only the state can provide such education. They believe that uniformity is the key. This is not only a rhetoric heard from teachers' unions, but only in a few countries such as Mexico, Brazil and Bulgaria.
Others argue that only individual families should decide on such questions. But is there a modern democracy with a truly individualistic school system? Please let me know if you find it.
Global norms are a multidimensional approach, with states funding a wide range of educational options for both government-run schools (commonly referred to as "public" in Canada) and independently owned and run schools. , Accountable. why?
Democracy presupposes diverse perspectives. Education for strong democracy needs more than that.
Studies support this. In fact, New study by think tank Cardus Shows that independent schools (that is, schools that are not run by the government) do a better job of forming better citizens than their government-run classmates.
For example, in one analysis, 34 quantitative studies of the impact of citizen performance in independent schools and government-run schools yielded 86 individual, statistically significant results. Of them, 50 showed clear independent school benefits, 33 showed neutral effects, and only 3 showed public school benefits.
The contest isn't too close.
And let's be clear about the types of effects we are talking about. The list includes political participation. This includes political tolerance. Specifically, we will respect the speech, freedom and opinions of those who strongly oppose it. Covering the transfer of both citizens' knowledge and skills, etc., students understand how to engage in political processes and are relevant for effective and public interest in terms of history, geography, processes and structures. You can get the context to do it.
Conclusion: In almost every respect, both personally and collectively, admission to an independent school is more effective than admission to a public school, as well as improving citizens' achievements.
Previous studies support this. The Cardus Education Survey, the largest dataset of independent school graduate results, also found that independent schools overly contributed to the formation of tolerant and citizen-involved citizens.I've seen this recently Ontario And British Columbia In particular.
To what extent does this relate not only to what is taught, but also to the culture and climate of the school in which it takes place? (After all, the value is "captured" rather than taught.)
See how independent schools responded to the blockade of COVID.
Another new Cardus study In Ontario, most schools lacked activity in the early stages of COVID, with little meaningful education from March to September 2020, but independent schools plummeted. And continued education. Almost half of the subjects surveyed did not miss a day's instruction. On average, independent schools lost their transition to emergency distance learning within just three days.
Why is there a quick response in one sector and the opposite in the other?
Independent schools are designed on a human scale. Not only are they small in size, they are easier to pivot in the event of a crisis, but the approach to education itself is more like a garden than a factory. They are agile and responsive because they are designed to do so. Most importantly, independent schools are deeply accountable to their parents. This gives you a quick and careful response rate.
It also leads to the formation of certain types. All education is formation. But how are students formed? Does our school foster an attentive, sensitive and flexible generation who accepts challenges courageously and creatively? Or does our school culture implicitly teach through our actions (and omissions!) To settle into the whims of distant, solid bureaucrats and union bosses, rather than confronting challenges? ??
Isn't it strange that an independent school has an advantage in forming a good citizen?
Now is the time to stop taking them for granted and allow more families, especially socio-economically disadvantaged people, to find their schools and form the best civil communities they can. It's time to encourage policies that enable.
So take every opportunity to grow young Canadians into good and productive citizens as we celebrate history and reflect on past injustices.
That is, community, academic and political leaders need to have the courage to support independent schools and uphold their proper role in public education.
David Hunt is the Education Program Director of the think tank Cardus.
The views expressed in this article are those of the author and do not necessarily reflect the views of The Epoch Times.