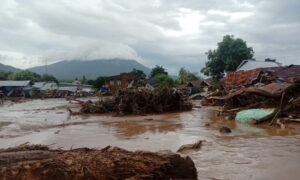 Jakarta-The death toll from floods and landslides caused by tropical cyclone cellophane in clusters of islands in southeastern Indonesia has increased to at least 55, and 40 are still missing, the Disaster Agency BNPB said Monday.
In East Nusa Tengala, which consists of several islands, at least 400 people have been evacuated after flash floods, landslides and strong winds in heavy cyclone rains, officials said.
According to the BNPB, cyclones caused high waves and complicated search and rescue operations, causing some bridges to collapse, trees to fall, some roads to be blocked, and at least one ship to sink.
"We are sending basic logistics needs such as food and blankets," said agency spokesman Raditia Jati.
President Joko Widodo expressed his condolences and urged residents to follow the instructions of the field officer in bad weather.
"I ordered disaster relief efforts to be carried out quickly and appropriately, such as medical service assistance, logistics availability, internally displaced persons' basic needs, and infrastructure rehabilitation," he streamed online. I said in a statement.
Local officials said the death toll exceeded 100, but the BNPB could not confirm it.
On Sunday, Reuters witnesses reported that a landslide on the outskirts of the capital Dili killed three people in neighboring East Timor. There were no official casualties on Sunday.
According to the Indonesian Meteorological Agency, the cellophane cyclone struck the Savu Sea southwest of Timor early Monday, warning that it could bring more rain, waves and wind.
Pertamina, a state-owned energy company, said gas stations, kerosene stores and four tank cars were flooded when extreme weather in the Nusa Tengala region was blocking the distribution of petroleum fuel.
Pertamina warned fuel terminals on nearby islands to help fuel the affected areas, it said.
By Agustinus Beo Da Costa and Bernadette Christina Munthe