[ad_1]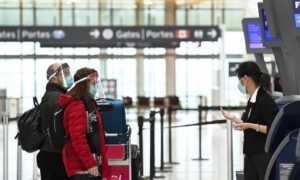 Toronto — International travelers arriving at Canada's largest airport are now being sent to various customs offices based on vaccination status.
Toronto Pearson International Airport said on Saturday that passengers coming from the United States or other international destinations could be split into vaccinated and partially or unvaccinated rows.
Beverly McDonald, a spokeswoman for the Greater Toronto Area, said: Authority.
Vancouver International Airport has a similar policy.
Fully vaccinated Canadian citizens and permanent residents can now skip the 14-day quarantine.
As of August 9, fully vaccinated US citizens and permanent residents will be admitted to Canada and will be admitted to other countries on September 7.
Ontario reported 170 new cases of COVID-19 and three more deaths on Saturday.
In Toronto, there were 44 new cases, 26 in the Peel region, 17 in Hamilton, 15 in the Waterloo region, and 13 in the Gray Bruce.
The numbers are based on 19,131 tests.
132 patients were receiving intensive care for serious COVID-related illnesses and 86 were on mechanical ventilation.
The previous day, more than 124,000 doses of the vaccine were given, for a total of more than 18.8 million doses.
Of the 170 new cases, 122 are under the age of 40, and only one new case is over the age of 80.
Allison Jones
[ad_2]