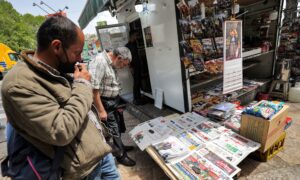 Iran has nominated a man who wants to be arrested in connection with a recent explosion and power outage at a major nuclear power plant in Natanz as negotiations on a nuclear deal with Tehran's 2015 world powers began in Vienna on Saturday.
"The perpetrator of this sabotage, Reza Karimi, was … identified by the Iranian intelligence ministry," state television said. The suspect said he had fled Iran before the explosion last Sunday when Islamic republic blamed enemy Israel.
Officials from the remaining parties to the Iran nuclear deal have begun a formal meeting in Vienna, suggesting that talks on this round, which began on Thursday, have ended.
Television said there was a picture of the suspected perpetrator on a red card labeled "Interpol Wanted." The card stated that his age was 43 years old.
"The necessary steps are underway to return to the country through his arrest and legitimate routes," the report added.
State television also aired footage of a line of centrifuges that replaced the blast-damaged ones at Natanz's uranium enrichment plant.
The report added that "many" centrifuges, whose enrichment activity was interrupted by the explosion, returned to normal use.
Iran and the world's major powers are meeting in Vienna to discuss the 2015 nuclear deal left by Washington three years ago. Negotiations are potentially complicated by Tehran's decision to enhance uranium enrichment and what is called Israeli sabotage at the Natanz nuclear site.
Israel has not officially commented on the case.