[ad_1]

Commentary
In a previous opinion piece, I explained how the world treated the Republic of Kosovo differently than the People's Republic of Donetsk and Luhansk. This different treatment reveals the existence of a double standard for ethnic group separation and self-determination under international law.
The West welcomed Kosovo's departure from Serbia, but opposed the Declaration of Independence of the People's Republics of Donetsk and Luhansk, which was only granted by Russia and Syria. In contrast, as of March 2020, Kosovo was approved by 115 UN member states, but 15 have since withdrawn.
This non-principle approach to the issue of withdrawal and self-determination is, at least in part, the result of UN Security Council resolution 1244. Adopted on June 10, 1999 in response to NATO's continued bombing of Serbia on March 24, 1999. It confirms that Kosovo is still an integral part of Serbia.
Specifically, Annex 2 promotes "substantial autonomy of Kosovo", but acknowledges that "the principles of sovereignty and territorial integrity of the Federal Republic of Yugoslavia" must be fully considered. Thus, Kosovo's territory is part of Serbia, the successor to the Federal Republic of Yugoslavia, suggesting that it does not support separation.
The resolution also "allows an agreed number of Yugoslav and Serbian personnel to return to maintain their presence in the patriotic place of Serbs," and "existence at major border crossings." It has said.
Later, it was agreed that Serbia could have up to 1,000 police officers or military officers on the border, admitting that Serbs make up the majority of Kosovo's population.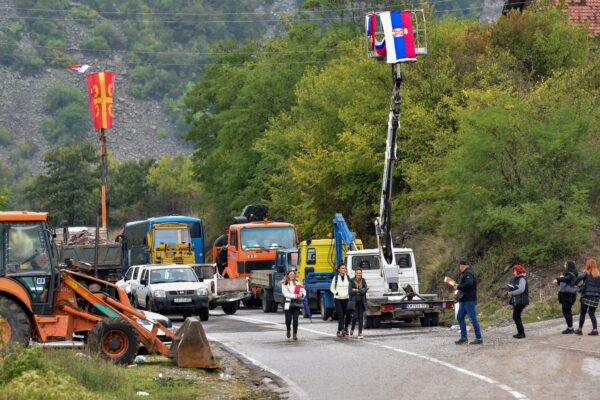 Failed to resolve
In any case, on February 17, 2008, Kosovo unilaterally declared independence from Serbia, and the resolution failed to fulfill its high promise. There are no Serbian officers on the border, and Serbians are a minority in Kosovo. Nevertheless, Resolution 1244 still legally binds all parties, but Kosovo and Serbs interpret it in different, mutually exclusive ways.
This suspicious application of the double standard can also be seen in the current Western response to Russia's invasion of Ukraine. Western nations have imposed strict economic sanctions on Russia to punish its aggression. This is arrogantly characterized by Russian President Vladimir Putin as a "special military operation". But it also continues to buy cheap energy from Russia.
Alexander Vrin, Serbian Interior Minister, said the 1999 NATO bombing of Serbia was "a crime against the sovereign state and its people and was a serious violation of international law."
From a business perspective, Russia has prepared for this immense situation for the past decade. Until recently, it imported fruits and vegetables from Serbia and other Eastern European countries. However, since 2019, Russia has become self-sufficient by increasing its self-sufficiency, significantly reducing imports of these products. In 2015, Putin urged the public to repatriate financial resources from abroad to Russia to prevent them from being seized or obstructed by the vengeful West.
Sberbank, Russia's largest bank, listened to this call. publication It will withdraw from the western market and instead concentrate on Central Asia. In the meantime, banks have acquired huge amounts of gold.
What will happen to the future?
These developments show that Russia was anticipating a Western reaction to the planned invasion of Ukraine and preparing the people for the financial hardships that would be inflicted. Troublesome, this long preparation may indicate that Russia has been in it for a long time, and that the invasion of Ukraine is the first salvo of a protracted power struggle with the West. Given the validity of this analysis, Ukraine may only be the beginning of anxiety and uncertainty in Europe and the Middle East.
The drama currently unfolding in Ukraine asks analysts a question: who is right? Western countries, where people enjoy sophisticated education, progressive and liberal attitudes, and prefer a comfortable lifestyle, are naturally obsessed with imposing their values ​​and Western standards on Russia.
However, the West has changed dramatically in the last few years, and is now well-established in its society, coupled with a diminished respect for moral standards, religion, beliefs, and even individual freedom.
No doubt something is happening when the ambitions of the emerging market economies of the BRICS countries (Brazil, Russia, India, China, South Africa) and their determination to compete economically with developed countries are added to the equation. I understand. It will lead to the development of a new world order, unlike the world order established after each catastrophic historical event.
It is useful to carefully observe and track what is happening in the financial world with international money movements to see how the order of this new developing country is progressing.
Putin's recommendations to his compatriots in 2015 show that this may be the key to understanding the development of the world, as fiscal policy and activity predict future behavior of countries. ..
One thing is certain: the world will become an unstable place, and accepting dual non-principle standards is unlikely to bring stability, prosperity, and lasting peace among the nations of the world. about it.
Instead, it may facilitate the establishment of a new world order.
The views expressed in this article are those of the author and do not necessarily reflect the views of The Epoch Times.
[ad_2]