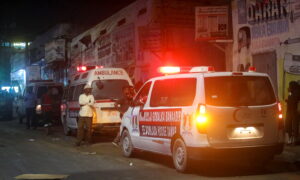 Mogadishu, Somalia — Simultaneous explosions at two Somali military bases and their surroundings on Saturday confirmed that at least nine personnel had been killed, but attackers killed dozens of people. He claimed to have made a big loss. Al-Shabaab extremist group claimed responsibility.
In another attack on Saturday night, a suicide bomber detonated an explosive at a coffee shop in Mogadishu, the capital of Somalia, killing at least six people, police spokesman Sadiq Ali Adan told The Associated Press. The other four were injured. No one immediately claimed responsibility.
Residents said the attacks at the military base occurred in the villages of Bariirre and Awdhegleh in the Lower Sheberi region, 75 km (46 miles) south of Mogadishu.
General Odawa Yusuf Raguet, commander of the Somali Armed Forces, spoke with local media and confirmed the twins' attacks, but said al-Shabaab had been repulsed with "great losses" among the militants.
"They left behind some of the bodies of the murdered commanders," he added, adding that his military is still chasing fleeing fighters.
"We lost nine soldiers and 11 were injured from our side," General Mohammed Talil Bich, commander of the government's infantry unit, told AP.
"From Shabab, I killed 60 militias in one place and 17 near another base," he added.
Al-Shabaab spokesman Sheikh Abdulaziz Almusab claimed that the group had killed 47 government fighters. In a statement on radical radio, he said the simultaneous attack began with a suicide car bomb.
As President Mohammed Abdullah Mohammed was forced to resign, there was concern that al-Qaeda-linked groups would be bolded by Somalia's current political crisis. The February elections have been postponed.
Mogadishu witnessed the opening of a meeting on Saturday between federal leaders, including the president, and leaders of five federal member states. They were expected to discuss future directions.
By Hassan Barise