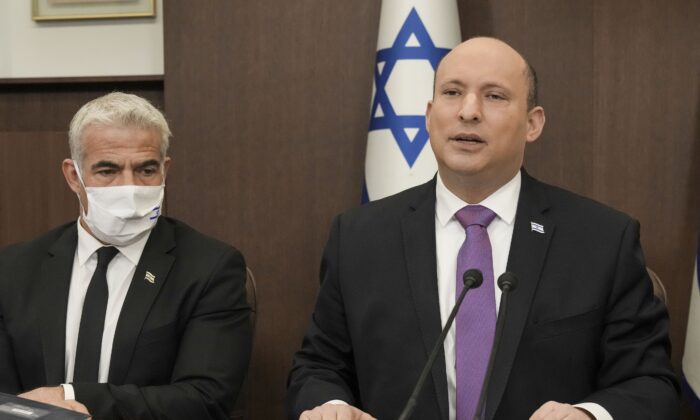 Israeli Prime Minister Naftali Bennett (right) will chair the Cabinet weekly with Israeli Foreign Minister Yale Rapid in Jerusalem on February 20, 2022. (Tsafrir Abayov / AP photo, pool)
Jerusalem — Israel announced on Sunday that it will allow unvaccinated tourists to enter the country starting next month as the latest wave of coronavirus recedes.
Prime Minister Naftali Bennett said both vaccinated and non-vaccinated foreign tourists need to be tested for PCR coronavirus before flight and at landing. The rules will come into effect on March 1.
"The morbidity data is constantly declining, so it's time to gradually open it up," Bennett said.
Israel has severely restricted foreign tourists from entering the country for the past two years, and the arrival of a highly contagious variant of Omicron effectively closed the sky for foreign tourists at the end of last year. Recent data show a sharp decline in new cases, reflecting patterns in other countries around the world.
Bennett's office said the restrictions on Israeli return were also relaxed, eliminating the need for travelers to undergo a PCR test prior to flight.
The requirements for weekly tests for school children will also be suspended in the coming weeks.