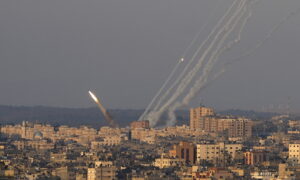 The Israel Defense Forces said on February 23 that it carried out attacks in the Gaza Strip in response to previous rocket attacks from the Gaza Strip as the situation in the West Bank and East Jerusalem has become increasingly violent.
On Twitter, the Israeli military claimed that the latest attack in the Gaza Strip hit a naval weapons manufacturing and storage site for the terrorist organization Hamas.
According to the IDF, Hamas has built military facilities next to mosques, clinics, hotels, police stations and schools.
It is not clear whether civilians were injured in the targeted attacks.
"In response to rockets fired from Gaza, IAF fighters attacked both weapons manufacturing sites and military installations belonging to the Hamas terrorist organization located in central and northern Gaza," the IDF said. .
"This serves as further evidence of how the Hamas terrorist organization exploits civilians in Gaza by deliberately placing their weapons in the heart of civilian areas," the Israeli military added.
The attack came shortly after Israel announced that Palestinian militants had fired six rockets from Gaza. The strikes came shortly after an Israeli raid on the West Bank city of Nablus sparked violent clashes and killed 11 Palestinians.
Rocket attacks were not immediately claimed by Palestinian militant groups.
Rockets fired at Israel
Before the latest strike, the Israeli army Said Five of the six rockets fired from Gaza, where numerous terrorists and extremist groups operate, were intercepted by IDF air defense arrays and one fell into no-man's land. Rockets were reportedly fired towards the cities of Ashkelon and Sderot.
After that strike, there were no reports of injuries in Israel or Gaza.
Earlier Wednesday, Israeli authorities launched a four-hour raid on Nablus, in the northern part of the West Bank, targeting terrorists suspected in previous shootings.
All three wanted terrorists were killed, along with eight others, including a 72-year-old man and a 16-year-old boy who were killed in a shootout between the terrorists and the IDF, officials said. Hundreds of bystanders were injured.
No Israeli casualties have been reported as they are rarely in the area.
The raid was one of the bloodiest events resulting from last year's fighting between the West Bank and East Jerusalem, and was even deadlier than last month's Israeli raid on Jenin, which killed nine people.
Washington is concerned about the level of violence
A day after the attack, terrorists opened fire on a synagogue in Jerusalem, killing seven.
Gaza-based leader Ziad Al-Nahra islamic holy war terrorist group, called It added that Israel's recent raid on terrorist groups in Nablus was a "serious crime" and that "it is our duty as resistance forces to respond to this crime without hesitation."
U.S. State Department spokesman Ned Price said: Press conference On February 22, Washington was "extremely concerned about the level of violence in Israel and the West Bank" and that recent raids on terrorist targets "bring peace to both Israelis and Palestinians". I am concerned about the impact it will have.
"Today in Nablus, at least 10 Palestinians, including both militants and civilian bystanders, were killed and more than 100 wounded during the Israeli Defense Forces' counterterrorism operation," Price said. "We wish the injured a speedy recovery and extend our deepest sympathies to the families of the innocent bystanders who were killed today."
"We are aware of the very real security concerns facing Israel. ' added Price.
A State Department spokesman added that the latest events underscored the urgent need for both sides to "work together to improve the security situation in the West Bank."
almost 60 Palestinians Killed in the troubled West Bank and East Jerusalem so far this year. By 2022, 150 Palestinians will killed in those areas.
The Associated Press contributed to this report.