The Israeli Defense Forces have confirmed that they have killed high-ranking Hamas officials during an airstrike against a designated terrorist group.
"Killed Hamas anti-tank missile unit commander Iyad Fatty Fake Sharil. He was responsible for carrying out anti-tank missile attacks on Israel. Our aircraft is now being added in Gaza. We are attacking the terrorist targets of the Israeli Defense Force (IDF). Tweet On Tuesday, we launched an attack in Gaza.
Israel said the group would continue to launch attacks on Hamas after launching hundreds of rockets in Jerusalem, the capital, and other parts of the country.
According to another statement, about 130 Palestinian targets were attacked by the IDF on Monday and Tuesday.
Killed Iyad Fatty Fake Sharil, commander of the Hamas anti-tank missile unit. He was responsible for carrying out anti-tank missile attacks on Israel.

Our aircraft is currently attacking additional terrorist targets in Gaza.

— Israel Defense Forces (@IDF) May 11, 2021
"Overnight, in response to continuous rocket launches from the Gaza Strip on Israeli territory, the IDF attacked more than 130 terrorist targets belonging to terrorist organizations in the Gaza Strip," said IDF. "In the first and second stages of the strike, IDF fighters, attack helicopters, and aircraft attacked weapons manufacturing sites belonging to the Hamastello organization."
He added that Hamas and Islamic Jihad targets were subsequently attacked, including weapons manufacturing sites and other facilities.
Reports including reports from Times of IsraelSaid that about 200 mortars and rockets were launched from the Gaza Strip into Israel on Monday and Tuesday. Many of those projectiles were intercepted by the Israeli Iron Dome missile defense system.
So far, 30 Palestinians and 3 Israelis have reportedly died.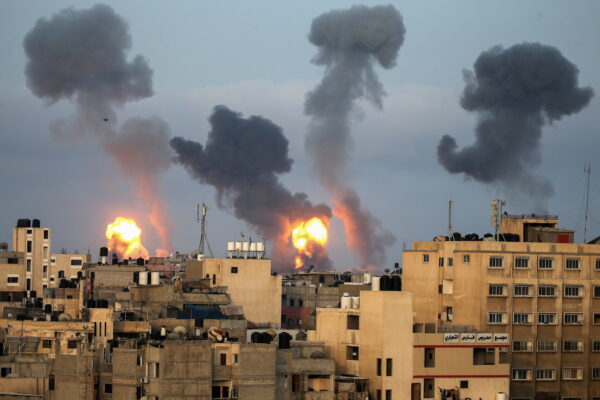 A 13-story residential Gaza block collapsed during an airstrike. Until late at night, Gazan reported that the house was shaking and the sky was brightening with a nearly constant Israeli strike.
The Israelis ran in search of a community shelter more than 70 km (45 miles) from the coast in the sound of an explosion when an Israeli interceptor missile streak into the sky. Israel said hundreds of rockets were launched by Palestinian militant groups.
Israeli Prime Minister Benjamin Netanyahu said a terrorist group would pay a "very heavy" price for a rocket that arrived on the outskirts of Jerusalem on Monday during a vacation in Israel to commemorate the occupation of East Jerusalem in the 1967 war. I warned.
"We are in the middle of a heavy campaign," Netanyahu said in a television statement with his Defense Minister and military commander.
Reuters contributed to this report.