[ad_1]

Cairo — Israeli Prime Minister Naftali Bennett meets with Egyptian President Abdel Fatta al-Sisi on Monday on the first official trip to Egypt by Israeli government leaders for a decade, with Israeli-Palestinian relations and bilateral relations. We talked about the relationship.
Bennett, who took office in June, was invited by Sisi last month. Since May, Egypt has played an important role in mediating and strengthening the ceasefire in the Gaza Strip after an 11-day conflict between Israel and the Palestinian terrorist group Hamas.
Bennett said the talks at Sharm El Sheikh's Red Sea Resort covered diplomacy, security and the economy. "We have laid the foundation for a deep connection in the future," he said before returning home.
According to the Egyptian Presidential Statement, Sisi cited in the discussion the importance of Egypt's efforts to maintain peace in the Palestinian Territory and the importance of international support for reconstruction efforts there.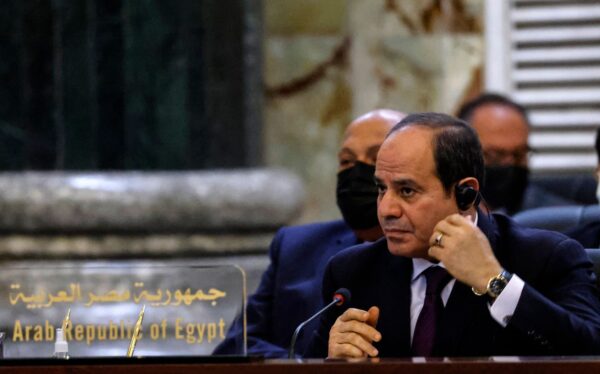 Increasing cross-border violence since late August has tested Gaza's fragile ceasefire. Last week, Palestinian militants launched rockets at Israel for three consecutive nights, causing Israeli airstrikes.
Sisi also "confirmed Egypt's support for all efforts to achieve inclusive peace in the Middle East, according to the two-state solution," the presidential statement said.
Peace talks between Israel and Palestinians collapsed in 2014, and analysts say they are unlikely to be revived. Bennett opposes the Palestinian state. His government has focused on policies to improve the economic situation in the Palestinian Territory.
Crossing the border
Egypt was the first Arab country to sign a peace treaty with Israel in 1979, but relations remain calm and limited to security cooperation and limited economic ties.
Israel and Egypt are blocking Gaza, citing threats from Hamas.
Cairo's mediation of the Gaza ceasefire allowed us to reaffirm our diplomatic role in the region last year following a deal by four Arab countries to normalize relations with Israel.
Bennett's trip seemed to boost the transportation link between Egypt and Israel.
According to the Israeli Ministry of Transport, the Taba intersection between Israel and Sinai, the gateway to Israeli tourists, will be fully functional from Monday as the restrictions imposed during the coronavirus pandemic have been lifted.
Egyptair will begin operating several flights a week between Cairo and Tel Aviv in October, according to Egyptair sources.
According to diplomats and security sources, Bennett and Sisi were also expected to discuss regional issues such as the impact of Iran in the Middle East and the crisis in Lebanon.
The last official visit of the Israeli Prime Minister to Egypt was when Benjamin Netanyahu met former Egyptian President Hosni Mubarak in Sharm El Sheikh in January 2011, shortly before the uprising that defeated Mubarak.
[ad_2]