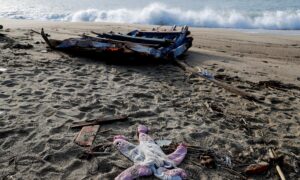 ROME—Italian authorities found the bodies of five shipwreck victims off the coast of Calabria last month. That brings the death toll from one of the worst migration disasters in recent European history to 86.
The tragedy was followed by another shipwreck on Sunday, leaving 30 people missing and feared dead.
A boy aged about 7 or 8, a girl aged 3, two men and a woman were killed in a nighttime shipwreck near the seaside town of Stictarto di Cutro, state officials said. was confirmed to be a person.
According to a briefing to parliament by Interior Minister Matteo Piantedosi, they were in a wooden boat that departed from Izmir, Turkey, with about 180 people on board on February 26, near the coast of Calabria at the southern tip of Italy. crashed in
The minister said 80 people survived, meaning about 15 remain missing. More than two weeks after the tragedy, Italian coast guards, firefighters and border guards are still searching for them.
A police boat attempted to intercept the boat before it sank, but was unable to reach due to heavy weather.