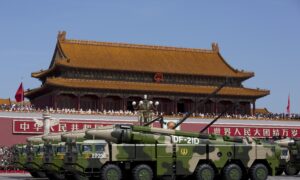 In a foreign policy report released on April 27, Japan expressed concern about the military expansion of the Chinese administration and its activities in the Indo-Pacific.
Beijing's strengthening of military operations and activities in the East China Sea and South China Sea "is a serious security concern for the region and the international community," said the national Ministry of Foreign Affairs' annual report, "Japan Foreign Affairs Bluebook 2021." "States. ..
The Blue Book emphasizes that the Chinese administration's military spending has increased about 44 times over the last three decades. Beijing currently has the largest navy in the world. As of early 2020, the U.S. Navy had about 293 vessels, compared to an estimated 350 vessels that make up the Chinese Navy, according to a 2020 Pentagon report (as of early 2020).pdf).
The Blue Book states that the China Coast Guard's invasion of the disputed waters near the Senkaku Islands violates international law by invading Japan's territorial waters. The uninhabited island is located in the East China Sea, and both Japan and China claim sovereignty and are called the Senkaku Islands.
The report also criticized China's new Coast Guard law, which allows maritime law enforcement agencies to fire on foreign vessels.
Japan's remarks were made as China's activities in the East China Sea and South China Sea intensified. The administration recently sent a large vessel, believed to be stationed by maritime militia, to the disputed Whitson Reef in the South China Sea, urging protests from the Philippines.
The Chinese administration claims sovereignty over almost the entire South China Sea, despite a 2016 international court ruling that rejected these territorial claims. Brunei, Indonesia, Malaysia, the Philippines, Taiwan and Vietnam allege to compete in waterways. The South China Sea, one of the world's major sea routes, has been regarded as one of the most unstable regions in the world.
The Blue Book also expressed concern about the crackdown on the administration in Hong Kong and human rights abuses in the Xinjiang Uygur Autonomous Region.
Beijing responded angry to a Japanese statement on April 27, saying that China's Foreign Ministry spokesman Mio Wentan "has maliciously attacked and polluted China and unfairly interfered with China's internal affairs."
Earlier this month, Prime Minister Yoshihide Suga met with President Joe Biden at the White House at his first face-to-face summit since taking office. The two leaders seriously discussed the impact of the Chinese administration on the Indo-Pacific. Suga said At the White House on April 16th.
"We agreed to oppose any attempt to change the status quo by force or coercion in the East China Sea and South China Sea, and threats to others in the region," he said.