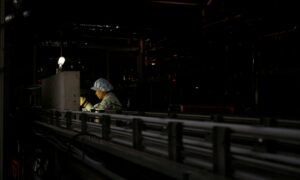 TOKYO—Manufacturing activity in Japan contracted in February at the fastest pace in 30 months, a business survey showed Tuesday.
The au Jibun Bank Flash Japan Manufacturing Purchasing Managers Index (PMI) for February fell to a seasonally adjusted 47.4 from 48.9 the previous month.
The index remains below the 50 level that separates contraction and expansion for the fourth month in a row, marking its biggest drop since August 2020 at 47.2.
Factory output and new orders fell for the eighth straight month, declining at a faster pace than in January, according to subindex data.
Global demand is relentlessly weak, as evidenced by recent indicators such as weaker-than-expected gross domestic product (GDP) growth in October-December and a record trade deficit in January. Export orders recorded their biggest drop since July 2020.
In contrast, service sector activity increased for six months due to further easing of the country's COVID-19 measures. The government last month announced it would downgrade the public health classification of the coronavirus in May.
The au Jibun Bank flash service PMI for February rose from 52.3 in the previous month to an eight-month high (seasonally adjusted) of 53.6.
"As the latest wave of the COVID-19 pandemic fades, service providers have recorded a sharp increase in activity and new business, boosting demand," said Andrew Harker, economics director at S&P Global Market Intelligence, which compiled the study. supported," he said.
But while service firms' input costs rose at the fastest pace in eight months, inflation in the prices they charge customers remained at a two-month high, indicating lower profits.
"Businesses are hoping that pricing pressure will ease significantly in the coming months to provide some support for customer demand," Harker said.
Despite the challenging cost environment, service provider confidence improved with the business sentiment sub-index rising from a 10-month low.
Overall, au Jibun Bank Flash Japan's composite PMI for February was 50.7, in line with last month's close, as a pessimistic manufacturing index was offset by a rosy services PMI.