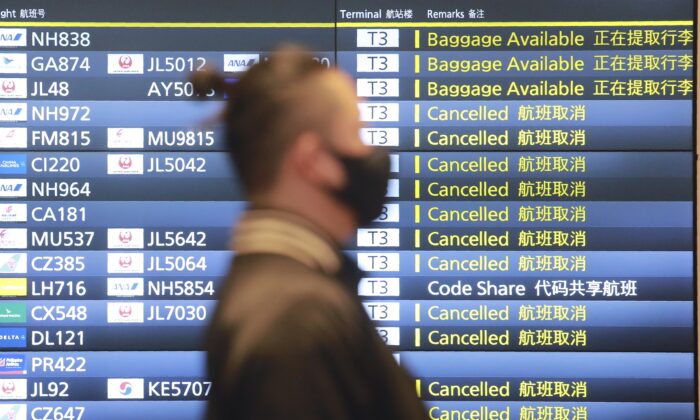 On December 28, 2020, a man wearing a face mask is walking by a flight information board at Haneda International Airport in Tokyo. (Koji Sasahara / AP photo)
Tokyo-Japan has announced that it will ease border controls from Monday for fully vaccinated travelers, excluding tourists, in response to demands from the business community following the rapid decline in infectious diseases.
Everyone entering Japan must be fully vaccinated with the COVID-19 vaccine approved by the Japanese authorities.
This applies not only to short-term business travelers under 3 months, but also to long-term visitors, including international students and workers in so-called technical internship programs, who require 14 days of quarantine.
Schools and the companies that sponsor them must submit documents detailing their activities and how they are monitored.
The 10-day self-quarantine between Japanese and foreigners with re-entry permit will be reduced to 3 days.
Japan closed its borders in January for virtually all foreign visitors, except for humanitarian purposes with special permits.
Daily cases have declined sharply since September.
About 73 percent of the population is fully vaccinated. Tokyo reported 25 cases on Friday, falling below 30 for the ninth straight day. Nationwide, Japan had 158 confirmed cases on Thursday, for a total of 1.72 million people, killing about 18,300.
Border control easing is part of Japan's move to gradually resume social and economic activity. The government is experimenting with package tours at restaurants and sporting events before resuming further daily activities.
Deputy Prime Minister Seiji Kihara said Japan would consider allowing foreign tour groups by the end of the year after considering ways to manage and monitor the activities of foreign tour groups.
Mari Yamaguchi