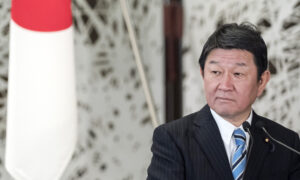 Japan's Foreign Minister Toshimitsu Motegi had a telephone clash with Chinese Foreign Minister Wang Yi on various issues a few days before Prime Minister Yoshihide Suga visited Washington to strengthen US-Japan relations on April 16.
On April 5, Toshimitsu Motegi criticized China's actions in conflict areas, Xinjiang Uygur Autonomous Region, and Hong Kong in a 90-minute telephone conversation with Wang Yi.
Mr. Mogi confirmed to the King the importance of contributing to the region and the international community, and expressed "serious concern" about the invasion of the Senkaku Islands (also known as the Jumping Fish Islands in Taiwan and the Fishing Fish Islands in mainland China) by China. did. Human rights situation in the Coast Guard, South China Sea, Hong Kong, and Xinjiang Uygur Autonomous Region during longer-than-expected conversations.
But on the Chinese side, Wang Yi said the issue related to Hong Kong and the Xinjiang Uygur Autonomous Region was China's internal affairs and hoped that Japan would not be led by countries opposed to the Chinese Communist Party (CCP).
Japan said, "Don't reach too far."
Just one day later, on Tuesday, a cross-party parliamentary group on human rights demanded a law at its first meeting that would allow sanctions for human rights abuses.
Liberal Democratic Party lawmaker Akihisa Nagashima said serious human rights abuses have occurred around the world. "The world is increasingly focusing on how Japan, whose constitution emphasizes human rights, responds," Nagashima added.
Chief Cabinet Secretary Katsunobu Kato also said at a press conference in Tokyo that Japan should always evaluate the need for its own sanctions law.
Currently, Japan does not have a legal framework to impose sanctions on human rights abuses.
Japan rarely criticizes China publicly, especially from a human rights perspective. For decades, Japan has maintained its ties with the communist regime carefully and has not confused its neighbor, Japan's largest trading nation.
However, the Japanese government is becoming increasingly disappointed and critical of the Chinese Communist Party's practices in Hong Kong's Xinjiang Uygur Autonomous Region and conflict areas.
On February 1, this year, the controversial China Coast Guard Act came into force. This allows maritime law enforcement agencies to fire on foreign vessels as needed.
Atsushi Tsuruta, an associate professor of international law at Meiji Gakuin University, said in an article on April 6 that the China Coast Guard did not provide a clear definition of the area of ​​jurisdiction in the geographical sense. I think it will bring challenges to. The Japan Times..
He suspects that "China is making its claims under its own interpretation of the waters beyond what UNCLOS states," and after examining the text of the law in detail, he called the China Coast Guard the Maritime Law. Considered as an executive and military agency.
UNCLOS stands for United Nations Convention on the Law of the Sea.
Japan's Ministry of Defense announced the day before that the Chinese aircraft carrier Liaoning sailed between the main island of Okinawa and Miyakojima, and for the first time since April last year, a Chinese ship entered the South Pacific across the sea.
On March 16, US Secretary of Defense Antony Blinken and Secretary of Defense Lloyd Austin visited Japan and held a 2 plus 2 ministerial meeting with Foreign Minister Toshimitsu Motegi and Defense Minister Nobuo Kishi.
At the meeting, both sides said that China's actions, which contradict the existing international order, Presenting various issues to the Japan-US alliance And the international community has expressed serious concern about China's Coast Guard law.
Japan is the first destination for US secretaries to travel abroad under the Biden administration.